28 April 2005 Edition
Percentage politics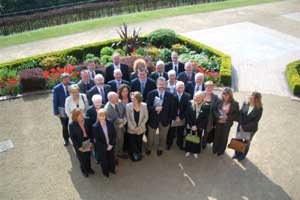 Six-County elections are unique in the voting world, not just for the fact that there are an awful lot of elections and that the voting system changes from poll to poll but that many of the elections are to institutions in which the Six-County members either don't have any power or do not actually meet in any meaningful way, which was what happened to the 1996 Forum, and has so far to the 2003 Assembly. There was also the 1975 Convention and the 1982 Assembly.
The real battle is for seats and percentages. The table below shows some of the last 13 years of Six-County elections. The results need a little probing. For example, compare the DUP performance in EU elections with their Westminster performance. This is due in the EU case to the popularity of Ian Paisley among unionist voters and the constituency deals struck in other constituencies such as Fermanagh/South Tyrone and North Belfast, allowing the UUP to hold Westminster seats.
The 2005 election will be the first since 1979 where the DUP and UUP have gone head to head across the board, so it makes it all a little more interesting. In terms of the DUP vote, the question is will their 2005 vote end up somewhere closer to their 2003 or 2004 vote share?
The UUP collapse will be worth monitoring to see if they fall below their dismal EU performance last year. It is worth noting that in 1981, the DUP just inched past the UUP and subsequent voting pacts muddied the water as to who their supporters really were.
In 1974, unionist voters elected eleven MPs, none of whom had been sitting before and all of whom were anti the then Anglo-Irish Agreement that set up the Sunningdale Executive. Could this happen this time around?
Finally, there is the Sinn Féin vote. It is clear from the table below that the party's vote had begun to grow again before the 1994 IRA cessation, but the party always found the EU elections hard to compete in as the appeal of John Hume was far greater than that ever accorded to the SDLP, his 28% plus in 1994 and 1999 testament to this.
2003 and 2004 were record performances for Sinn Féin. Repeating this again in 2005 will be a huge task for the party.
Six-County election results 1992 to 2004
Sinn Féin SDLP UUP DUP
Westminster 1992 10% 23.5% 34.5% 13.1%
Local Council 1993 12% 22% 29% 17%
European 1994 9.86% 28.93% 23.84% 29.16%
Forum 1996 15.47% 21.36% 24.17% 18.8%
Westminster 1997 16.1% 24.1% 32.7% 13.6%
Assembly 1998 17.63% 21.97% 18.14% 21.25%
European 1999 17.33% 28.1% 17.61% 28.4%
Westminster 2001 21.7% 21% 26.8% 22.5%
Assembly 2003 23.5% 17% 22.7% 25.6%
European 2004 26.31% 15.94% 16.60% 32%