28 April 2005 Edition
Justice for the Forgotten challenge new investigation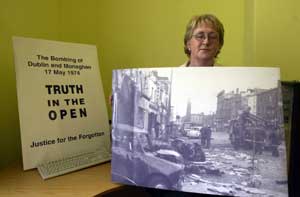 Justice for the Forgotten, representing the bereaved and the survivors of the Dublin and Monaghan bombings of May 1974, have criticised the form of investigation announced by the Dublin Government into the missing Garda files on the bombings.
The Dublin Government announced on Tuesday that an investigation would be headed by well-known Senior Counsel Patrick McEntee. In a statement, Justice for the Forgotten said the bereaved families and survivors must be involved in the inquiry but "serious concerns made known to the government have not as yet been addressed". The statement continued:
"The Terms of Reference of the Inquiry do not contain any reference to the victims as persons who have rights and interests in the matters to be investigated. In the absence of any meeting with the Chairperson the families and their advisers are concerned that they may have no role in the Inquiry.
"In the absence of an undertaking by the State to meet the families' legal costs they find themselves at a distinct disadvantage compared to the organs of the State. For example, the Department of Justice, Equality and Law Reform and An Garda Síochána will be fully represented in the Inquiry process while those directly affected by the State's failures will be effectively excluded from the Inquiry.
"In the circumstances, Justice for the Forgotten can have no confidence in the process of investigation being embarked upon."
This was raised in the Dáil with the Taoiseach on Wednesday by Sinn Féin TD Caoimhghín Ó Caoláin. He asked the Taoiseach:
"Given that Justice for the Forgotten has expressed its dissatisfaction with the inquiry's terms of reference will the Taoiseach revisit the terms of reference? Is there a facility for amended terms of reference to come before the House so that Deputies could have the opportunity to affect the final terms of reference?"
The Taoiseach replied that people could "make submissions to Mr Patrick McEntee SC about what they believe".
The Chairperson of Justice for the Forgotten, Bernie McNally, (above) an injured survivor of the Dublin bombs, said they would not be participating until the issues were sorted out to their satisfaction.