28 April 2005 Edition
Amnesty supports Finucane family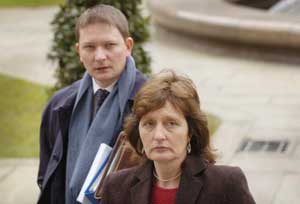 Human rights watchdog Amnesty International is backing the Finucane family, who have called on international judicial figures to refuse to sit on any inquiry set up by the British Government into the solicitor's killing under the recently enacted Inquiries Act 2005.
Amnesty International claimed the act would allow the British government to control any inquiry held under its terms and a final report would be published at the British government's discretion.
Spokesperson for the human rights group, Stephen Bowen, said the act passed through by the Blair Government on the day before Parliament was dissolved, "undermines the rule of law.
"By proposing to hold an inquiry into the Finucane case under the Inquiries Act, the British government is trying to eliminate independent scrutiny of it's agents which means that crucial evidence could be omitted from publication at the British governments instigation, by arguing it was in the public interest".
In a further blow to the British Government, a US lawyers' group and the Ancient Order of Hibernians (AOH) also criticised the way British Prime Minister Tony Blair has acted with regard to establishing an inquiry into the Belfast solicitor's shooting by the UDA.
The US delegation was in Ireland to observe the start of the Rosemary Nelson inquiry in Craigavon, County Armagh. That inquiry was set up before the new legislation and is not subject to its provisions.
In a joint statement, Lawyers for Justice and the AOH described the new Inquiries Act as a deliberate obstacle, strategically commissioned by the British government to prevent the full truth from emerging regarding the killing of the human rights lawyer.
"Irish America, the International human rights community, members of the US Congress and indeed many Americans stand united with the Finucane family in their quest for a proper inquiry. Recently, Judge Peter Cory gave evidence at a Congressional hearing in the US and severely criticised proposed legislation in the form of the Inquiries Bill aimed at preventing the type of inquiry he recommended," said their statement.
Meanwhile, London mayor Ken Livingstone has backed a campaign to have the two Scots Guards convicted of shooting dead 18-year-old Peter McBride (above) , in the New Lodge area of North Belfast in 1992, thrown out of the British Army.
The dead man's sister, Kelly, met Livingstone and Labour Party Westminster candidate and human rights barrister Yasmin Qureshi in London on Thursday 21 April.
Qureshi promised that if elected in Brent East she would "push for a change in the law which would see the automatic dismissal of any member of the British armed forces found guilty of a serious human rights violation, including murder, rape or torture.
"It is common sense that where a member of the British armed forces is found guilty of a serious crime, then they should not be able to retain their position in the British military," she said.
Brent East has the highest Irish vote of any electoral constituency in Britain.