28 April 2005 Edition
Families protest inaction over suicide crisis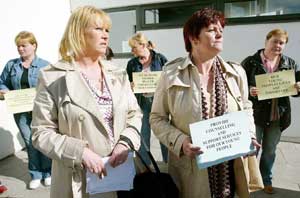 Relatives bereaved by the devastating legacy of suicide held a protest outside a health trust meeting in West Belfast on Wednesday to highlight the alarming rise in the number of suicides across the Six Counties.
The ongoing epidemic — which has already been at crisis point for several years — has grown increasingly more severe in recent months as families continue to plead with health officials to provide more support to those in crisis.
According to local community workers at least 15 people have taken their own lives in North and West Belfast in the last three months, and support organisations have been inundated with calls from frightened families requesting further information, support and referrals.
One of the latest victims is young Stephen McComb, who was only 19 years old when he took his own life this past Tuesday 26 April. His loss is only the latest tragedy to strike the McComb family, who have endured a series of terrible and traumatic deaths over the last several years.
Stephen's 15-year-old cousin, Debbie McComb, was struck and killed by death drivers as she crossed the Springfield Road in West Belfast in March of 2002. In May of last year, Debbie's grieving 19-year-old brother, Michael, took his own life. His 18-year-old girlfriend, Fiona Barnes, also died by her own hand soon after his burial.
In a statement released on Tuesday, Stephen's devastated family said they were suffering "terrible, unexplainable agony".
"For this community it is another tragic loss of a young life," the statement read. "We pray that Stephen's passing can in some way be turned to benefit others, in that it will finally force a meaningful response properly resourc-ed to deal with the crisis of self-harm.
"Finally, we wish to be afforded the space and privacy to bury our son, whom we loved deeply, in quiet and with the dignity he deserves."
North and West Belfast Health and Social Services Trust have been repeatedly criticised for not tackling the issue of self-harm and suicide in any effective way. On Wednesday, representatives of many bereaved families turned up outside the Trust's monthly meeting to highlight their demands for immediate action.
Michael Doherty, chairperson of the Lenadoon Community Forum in West Belfast, said projects to address suicide are in desperate need of funding.
"There is an epidemic of suicides in this area — people don't want to be going to any more funerals," says Doherty.
"We estimate there have been at least 15 suicides in the last three months in North and West Belfast, but these are only the ones we know about. We run a local community counselling project and, before Christmas, we had 100 clients coming in each week. About 80% of those were referred by GPs and Psychiatric nurses.
"We have lost three of our workers recently - all related to funding. We offer a community parenting project, which the north and west Belfast Trust will not fund - yet their health workers refer people to it on a regular basis.
"Both of these services help reduce the numbers of suicides in this district, but that vital work is being hampered due to a lack of funding."
Sinn Féin President Gerry Adams says a fully resourced, community-based suicide prevention strategy is a priority in the Six Counties.
"Suicide is causing more fatalities than road traffic accidents," he said. "West Belfast has been disproportionately affected by suicide. The community is angry at the apparent indifference to the cycle of deaths.
"The British minister with responsibility for health conceded to me that mental health services in West Belfast are under-funded by more than £2 million. However, the Department of Health have yet to come up with the money to fill this gap in community support.
"If suicide is a national disaster in Ireland, we urgently need a national disaster plan. That must be a priority. The Health Departments in Belfast and Dublin must begin to realise that the public want urgent, strategic action on suicide prevention."
Community workers in the 26 Counties have also demanded that more resources be put into tackling the high levels of suicide among young people living in rural areas.
Ireland as a whole has one of the highest suicide rates in Europe, and more people have died by their own hand in the Six Counties than have perished during the last four decades of political violence.