28 April 2005 Edition
Zero knowledge - Taoiseach boasts of zero persons on trolleys in Monaghan Hospital - which has no A&E!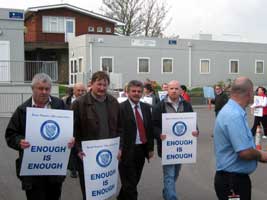 The Taoiseach has listed Monaghan General Hospital — a facility that has no Accident and Emergency unit — among hospitals with nobody on trolleys in A&E. Sinn Féin Health spokesperson and Cavan-Monaghan TD Caoimhghín Ó Caoláin said Bertie Ahern's reply showed that he "doesn't have a clue what he's talking about".
Ó Caoláin was questioning the Taoiseach during Leaders' Questions on the ongoing crisis in A&E departments throughout the State. Commenting on the Taoiseach's response, Ó Caoláin stated:
"As 249 patients suffer on trolleys at the start of this week the Taoiseach comes into the Dáil with no sense of urgency, no apparent concern and scanty knowledge of the crisis in our public A&E units. He trotted out yet again his lists of spending figures and the stale excuses offered up on a weekly basis in the script supplied to him by the Tánaiste's Department.
"Today's performance was an insult to the hundreds of people suffering the indignity and the real danger of lying on trolleys.
"He read out a list of hospitals where he said there were no patients on trolleys — but he included Monaghan General hospital, which has no A&E unit.
The unit in our hospital fell victim to the centralisation policy of this government yet the Taoiseach now boasts that it has no trolleys. Like the ostrich the Taoiseach's head is stuck in the sand."
Ó Caoláin supported the call of the Irish Nurses Organisation (INO) for closed hospital beds to be resourced and opened up to help relieve the pressure on A&E. He said this call "made a nonsense" of the Taoiseach's claims, also during Leaders' Questions in the Dáil on Tuesday, that the "staffing issues had been sorted out".
"If the staffing issue had been sorted out we would not have the ongoing crisis," said Ó Caoláin. "Where are the additional 2,250 acute hospital beds, the 4,000 elderly care beds and 60 primary care units promised in the government's Health Strategy? They have not been delivered.
"I urge everyone to support the INO and other front-line health service workers in their ongoing campaign 'Enough is Enough'".