21 April 2005 Edition
Families of Hunger Strikers to speak in Dromore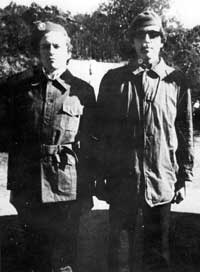 Families, friends and comrades of the 1981 Hunger Strikers will gather in Dromore, County Tyrone, this Saturday evening for a talk on the historic protest. The event is being organised by the Patsy Kelly Sinn Féin Cumann as part of the area's Céad Bliain celebrations.
One of the key speakers on the night will be Bernadette Donnelly, the girlfriend of Tyrone Hunger Striker Martin Hurson, who was the sixth to give his life. Martin died on 13 July 1981 after 46 days without food. He was 25 years old. Bernadette will travel from her home in Galway to attend.
Also speaking will be former comrades and friends of the Hunger Strikers, including former blanketman Ian Milne, who was a comrade and close friend of Francis Hughes, the second Hunger Striker to die after Bobby Sands. At the time of his death, Bobby was MP for the Dromore area, which at that time was part of the Fermanagh/South Tyrone constituency.
Poilín Quinn from An Fhírinne, also an ex-POW, will reflect a female perspective of the prison struggle.
Commenting on Saturday's event, Ann Quinn, one of organisers, said: "In 2001, similar events were held throughout the district to mark the 20th anniversary of the Hunger Strike. On that occasion, it was acknowledged that a very important perspective was omitted. This related to the experiences of the Hunger Strikers' families and women's experiences of the struggle for political status. As such, this year a special effort has been made to include these stories in our event.
"I would encourage the people of Tyrone to attend the talk and avail of a unique opportunity to hear the story of the Hunger Strike told by families, friends and comrades of the ten men."
The talk will take place this Saturday in St Dympna's old school at 8pm.
It is part of a programme organised in this area to mark the 100th anniversary of Sinn Féin. To date, these have included parades, tree plantings, football matches, and a display of the National Exhibition. The programme will culminate on Sunday evening with the rally in Carrickmore.