21 April 2005 Edition
Taoiseach challenged on A&E crisis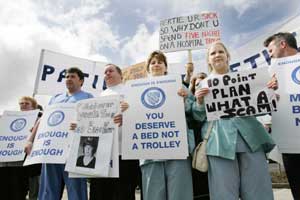 The crisis in hospital Accident and Emergency units and the Irish Nurses Organisation 'Enough is Enough' campaign were raised with Taoiseach Bertie Ahern by Sinn Féin's Caoimhghín Ó Caoláin in the Dáil on Wednesday. The party's Health spokesperson challenged the Taoiseach on the report of the Health and Safety Authority that A&E units are unsafe and have been reported to fire officers.
The Cavan/Monaghan TD told the Taoiseach:
"Last week, I was one of 300 people who protested in the pouring rain outside Cavan General Hospital in solidarity with the Irish Nurses Organisation and with the patients who continue to suffer day and daily in our Accident and Emergency units. There have been protests around the country which have been joined by elected representatives and ordinary citizens who are outraged that this scandal continues despite all the promises, all the plans, all the money spent and all the pledges of Minister Harney since she moved to the Health Department."
Ó Caoláin called on the Taoiseach and Health Minister Mary Harney to act on the Health and Safety Authority report that A&E units are unsafe and that eight hospitals have been reported to fire officers because exit doors and corridors are obstructed. "Not only are patients suffering on trolleys — they are also in danger in case of a fire or other emergency, " said Ó Caoláin.
He asked the Taoiseach and Tánaiste to meet the Health Service Executive and to call on them not go ahead with their Plan for 2005, which seeks 600 job cuts and which nurses have said will result in bed closures and make the A&E situation worse.
"Where are the additional 2,250 acute hospital beds, the 4,000 elderly care beds and 60 primary care units promised in the government's Health Strategy?" asked Ó Caoláin.
He pointed out that the fire service in Dublin had reported that the crisis in A&E units is now affecting their ability to respond to emergencies, as crews often have to queue with patients. Employment ceilings imposed on the health services are also preventing the employment of extra staff to ease the crisis.