21 April 2005 Edition
O'Rourke questions deportation policy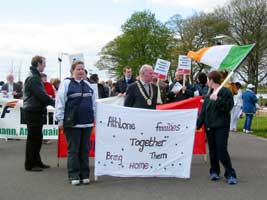 Athlone people last Saturday demonstrated outrage at the deportation last month of two local mothers of Irish born children, who were taken away, without even seeing their children, and put on a night plane back to Nigeria.
Kunle Elukanlo, the Nigerian leaving cert student whose return to Ireland was conceded by Minister Michael McDowell, was on the same flight. Kunle returned two weeks ago to great celebrations amongst his fellow students and campaigners and was allowed to pursue his studies here in Ireland.
Elizabeth Odunsi and Iyabo Nwanze, on 12 March last, were taken from their children and deported, without time to say goodbye. They have not been allowed by Minister McDowell to return.
That morning of the deportation, a Garda, accompanied by plain clothes immigration police — to the horror of students and teachers — came into Our Lady's Bower Secondary School in Athlone, looking, unsuccessfully as it turned out, for Elizabeth and Iyabo's children, who were both students at the school.
The Mayor of Athlone, Austin Berry, in his opening address to Saturday's protest, referred to the resolution the council had unanimously passed condemning McDowell for the deportations and "for this deplorable act of intimidation of students".
Many of the speakers at Saturday's demonstration had known the two women well, and spoke of phone calls they had held with them in Nigeria, where both women thanked Athlone people and their friends and pleaded with the Irish Minister "to have mercy and allow us to come back to be united with our children". A tape recording of a conversation on Friday night was played at the protest. It was heartbreaking.
Fine Gael and Labour TDs expressed support for the women. "It's not the role of the state to divide people," said Westmeath TD Paul McGrath (Fine Gael). "Mothers belong with their children."
"The women were popular, had been welcomed and become truly integrated into Athlone community for over three years. They should not have been taken away from their children," said Mary O'Rourke, Fianna Fáil leader of the Senate, told the protest. "Mothers belong with their children. We have to look at these deportations again."
Labour's Willie Pensrose spoke of the deportations breaching Article 41 of the constitution, protecting the family as an institution. The deportations were "institutionalised cruelty", he said.
The large crowd gave their strong endorsement to the speakers and particular applause to organisers of the protest, Athlone Families against Deportations. Joe Higgins spoke forcefully of the convenient lie of the Dublin Government, which refuses to recognise the corrupt, repressive and undemocratic nature of the Nigerian state.