21 April 2005 Edition
Tangled webs
BY LAURA FRIEL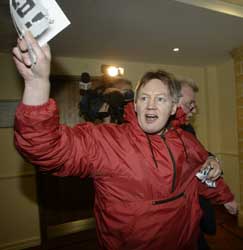 A web of deceit was unravelling in West Tyrone this week as Westminster candidate Kieran Deeny was forced into a public apology for telling porkies to the UUP and DUP. In fact, it soon became apparent that the Omagh doctor, who had specifically sold his candidacy on the grounds of his integrity and independence, had pretty much lied to everyone.
The first big lie was to the local electorate. Deeny had contested the seat as a Save Omagh Hospital candidate, claiming to be both cross-community and non-political. The underlining suggestion of Deeny's candidacy had been that the welfare of the local community was being placed above petty party politics and personal ambition. His was a Higher Calling, or so we were being asked to believe.
But all of that was swept aside this week as Deeny was exposed as an anti-Sinn Féin candidate. In a series of letters to the SDLP, UUP and DUP, Deeny had asked them to step aside not because he was the only candidate able to save Omagh Hospital, but as the only candidate likely to unseat Sinn Féin's Pat Doherty.
Appealing to unionist leaders, Deeny laid out his case for their support. "Pat Doherty received 38% of the Assembly vote and that leaves 62%. The unionist vote was only a combined total of 31%, so even a combined unionist candidate can't win. Of the remaining 31%, I will get most of that.
"I know a lot of unionist people will vote for me," wrote Deeny, "because they know I will represent every one of us in West Tyrone. I also know they want to remove Sinn Féin." Of course representing "every one of us" means, for Deeny, representing everyone other than those who vote for the largest party in the constituency. Sinn Féin voters are the 'them' as opposed to the 'us' of which Deeny speaks. So much for being cross community and non-political.
And as it transpired, Deeny wasn't so much "independent" as "available" to the highest anti-republican bidder. To the unionist parties, Deeny solicited their support with the reassurance: "I don't represent unionism and I don't represent nationalism. I am an independent in the truest sense."
But as it turned out, "in the truest sense" was just the second big lie of Deeny's campaign. Unionists were hopping mad when the publication of Deeny's correspondence with the SDLP exposed his pledge to the unionist community as a barefaced lie.
After claiming to be "an independent in the truest sense", Deeny wrote to the SDLP leader Mark Durkan suggesting that if the SDLP stepped aside to give him a free run to unseat Pat Doherty, he might join the SDLP at a later date.
It appears to initially have been an attractive prospect for the SDLP, who are poised to go into meltdown in West Tyrone. Faced with the prospect of being unable to elect a SDLP candidate by fair means, why not by foul? Covert SDLP candidates securing a mandate by stealth? Durkan appears to have toyed with the idea before reneging on his "gentleman's agreement" with Deeny.
Durkan left Deeny to lick his wounds and crave forgiveness from the unionist community he'd tried to hoodwink. "I now apologise unreservedly to all the good people of West Tyrone (ie. non Sinn Féin voters) and in particular those of a unionist tradition for making those statements," announced Deeny in a newspaper appeal.
The attempt to secure SDLP support for his candidacy by offering to join the party once elected was "a mistake" and Deeny "unreservedly apologised". Deeny publicly pledged never to join a political party. He did not "truly believe himself" he would ever join the SDLP, said Deeny.
It was a clear case of liar, liar your bum's on fire, but just to whom Deeny was lying remained unclear. Gaining SDLP support on the promise of hoodwinking unionism had failed, but unable or unwilling to abandon the dark art of mendacity, Deeny attempted to gain unionist support by claiming his negotiations with the SDLP had just been a clever ploy. "I am not nor ever was a potential SDLP politician," said Deeny.
After all this twisting and turning, no wonder even Deeny doesn't know what to "truly believe himself". As for the SDLP, Deeny has led them a merry dance. Last week, the national party imposed Eugene McMenamin as the SDLP candidate for West Tyrone, while the local party declared its continuing allegiance to Deeny.
Another anti-Sinn Féin hopeful, the south's Minister of Justice Michael McDowell,l was campaigning on behalf of the SDLP in the north but his intervention has been about as 'helpful' as the 'worthy' Omagh doctor. McDowell has emerged as such a hate figure in the south, the fact that the SDLP see him as an electoral asset tells us a lot about the party's desperation.
His support for the SDLP's Alasdair McDonnell backfired when protestors opposing McDowell's immigration policy appeared with anti-racism placards at a Belfast reception. A number of scuffles broke out between McDowell's bodyguards and those intent on exercising their democratic right to peaceful protest, while a red faced McDowell declared his right to support 'democracy' in the north.
Unionist infighting
Meanwhile, unionism is in such a tangle they don't know what way to turn. UUP grandees Jim Molyneaux and Martin Smyth undermined their party's own candidate and longtime party colleague Michael McGimpsey by endorsing the rival DUP candidate Jimmy Spratt in South Belfast.
Spratt has urged McGimpsey to withdraw, claiming that Smyth had only held the seat for the UUP in the last five Westminster elections because of support from the DUP.
Molyneaux has also endorsed Jeffrey Donaldson in Lagan Valley, the former UUP MLA who consistently attempted to undermine his party leader, David Trimble, and later defected to the DUP.
DUP candidate William McCrea has called for clarification from his UUP rival David Burnside. Burnside, along with Smyth and Donaldson, had defied Trimble by refusing the party whip in a stance against the Good Friday Agreement.
While Donaldson jumped ship to the DUP, Burnside stayed with the UUP. But does that mean he's "standing in the election as one of David Trimble's Ulster Unionist team," demanded McCrea.
The Orange Order has been thrown into disarray. This is the first election following the Order's official divorce from the UUP. Orange Grand Master Robert Saulters has thrown his support behind DUP candidate Arlene Foster in Fermanagh, much to the chagrin of the regional Orange Order, whose own County Grand Master, Tom Elliott, is standing as the UUP candidate.
Fermanagh Grand Lodge described Saulters' decision as "deeply offensive" and issued a statement condemning the Grand Master's lack of "fraternity". A spokesperson for Saulters said the head of the Orange Order believed the DUP was more likely to deliver on "Orange principles and the Orange agenda".
An apparent web of intrigue halted the UUP's scheduled launch of the party's manifesto, due to take place in Belfast on Monday. It was postponed after a prominent party member's home and offices were raided as part of PSNI inquiry into money laundering and dodgy land deals.
Michael Copeland, UUP MLA and Castlereagh councillor, has declared his innocence and claims he is a "victim of dirty tricks". Trimble declared his support for Copeland, while UUP accusations against the DUP were rigorously denied by Ian Paisley, who said his party wasn't in that kind of business.
But the UUP don't need Paisley to wrong foot them. They are more than capable of doing for themselves. And there it was. David Trimble launched his party's campaign standing in front of the UUP's election poster. Last time, the UUP had hoped to appeal to working class voters with its 'Simply British' campaign and images of fish and chips. This time, their target was the middle class. "Decent people," ran the poster, "vote Ulster Unionists."
Trimble was immediately accused of trying to "shame" people into voting for his party. It's a slur on Ulster people, declared the DUP.
"This is a horrendous affront on people of all political persuasions," said Nigel Dodds of the DUP. "I call upon the UUP to apologise to everyone in Northern Ireland who they have offended.
"It is implicit in the UUP's advert that anyone who votes for any other political party is an indecent person. This is a terrible slur. Decent people vote for the DUP, SDLP and the Alliance Party and other constitutional parties," said Dodds, carefully avoiding including Sinn Féin voters in his 'decent people' category.