21 April 2005 Edition
Voting trends show Sinn Féin is on the up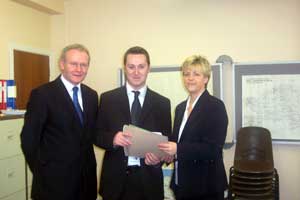 When Philip McGuigan won Sinn Féin's first Assembly seat in North Antrim in November 2003, not only did his election mark a major breakthrough for the party, it saw Sinn Féin supplant the SDLP as the biggest nationalist party in North Antrim.
Coming as it did, in what is seen as Ian Paisley's back yard, this breakthrough represented a swing of thousands of votes to Sinn Féin, allowing McGuigan to outpoll SDLP stalwart Seán Farran.
In the 2001 Westminster election, Sinn Féin had received 4,822 votes compared to Farren's 8,283. However, by November 2003 McGugan overturned the SDLP majority in the Assembly elections when he polled 6,195 first preference votes to Farren's 3,648. This represented 14% of the votes cast.
Speaking to An Phoblacht's Poilín Nic Giolla Riabhaigh, Philip McGuigan said that"if that voting trend is repeated this time round, then certainly Sinn Féin will put more ground between it and the SDLP.
"However, he added, "we want, in the local government elections, to increase our number of seats — three in total — two in Moyle and one in Ballymoney, to at least six.
"That is a big job, given that Sinn Féin picked up 5% of the vote in 2001 to the SDLP's 18%. We are confident, though, that we can pick up votes and of course we have the electoral machine to get our vote out."