14 April 2005 Edition
Ógra day of protest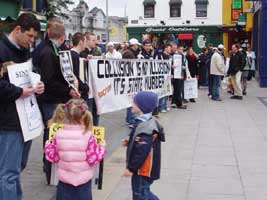 Republicans from all over Ireland took part in a nationwide day of action last Saturday. Members of Ógra Shinn Féin took to the streets in Belfast, Derry, Dublin, Omagh, Strabane, South Armagh, Down, Cork, Galway and Leitrim. The purpose of the protest was to remember the election of Bobby Sands MP in the constituency of Fermanagh/South Tyrone.
Saturday 9 April marked the 24th anniversary of the victory that propelled the plight of the Hunger Strikers and the prison protest to a new level.
"This was a clear message, if any was needed, that Bobby Sands and his comrades were not criminals, as portrayed by the British government, among others" explained Mickey Bravender of Ógra Shinn Féin from the protest in Cork City centre. "The attempted criminalisation of republicans continues today, led by people such as Michael McDowell, Tony Blair and others.
"Bobby Sands and his comrades defeated criminalisation in 1981; now in 2005 we will defeat it once more."