14 April 2005 Edition
Callanan calls on people to join trade unions - BY RAY O'REILLY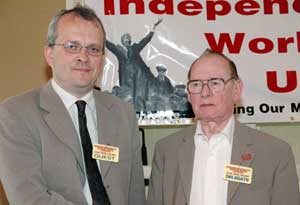 Speaking at the Independent Workers' Union annual conference in Galway last week, Sinn Féin Councillor Daniel Callanan called on people to join trade unions and protect their rights.
Callanan said that current legislation can at best allow victims of injustice claim modest monetary compensation. What the present system does not do, he reminded delegates, is protect jobs or ensure a fairer distribution of wealth. To do that, a strong and healthy movement of organised labour is required.
Extra revenue
A solicitor himself, he told how in the course of his work he frequently encounters the raw edge of poverty and inequality. On several occasions lately he has even been forced to write officially to the local health authorities demanding medical treatment for clients. He told the conference that more investment in public services is urgently needed. To make meaningful change in the situation of the less well off, Callanan said, extra revenue must be raised through an increase in taxation and elected representatives should be honest with the electorate; lower taxation means reduced public services, while an improved system inevitably involves additional contributions from the better off.
Callanan congratulated the union on selecting Galway for its annual conference and wished the IWU well in the future.
Callanan calls on people to join trade unions