14 April 2005 Edition
We will not be criminalised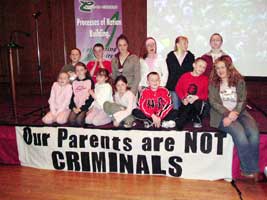 Hundreds of former republican political prisoners and their families gathered in the Europa Hotel in Belfast on Monday evening 11 April, for an anti-criminalisation rally organised by Coiste na nIarchimí.
Organisers had billed the rally as a response to the latest attempts by the British Government and its unionist allies, including elements in the Dublin Government, to criminalise the republican struggle.
Among the speakers were former Hunger Striker Laurence McKeown and former women POWs Rosie McCorley and Kathy Stanton. Another former Hunger Striker, Raymond McCartney, chaired the event.
The first speaker of the night, however was Fergus O'Hehir, a founding member of the People's Democracy and a member of the National H-Block Armagh Committee which organised around the prison issues during the late '70s and during the Hunger Strikes of 1980 and 1981.
He pointed out the irony of holding the rally in the Europa, when only a short number of years ago the RUC would throw a ring of steel around the centre of Belfast rather than let nationalists hold political rallies in what they regarded as a unionist city.
O'Hehir was relating this "because there is a direct link between labelling those who dared question the right of the unionist and British authorities to rule us unchallenged as second class citizens, as hooligans, trouble makers, as communists. There is a direct link between that policy and the policy today where those who challenge unfettered unionist and British rule are labelled as criminals and gangsters.
"And the name calling then, as now, often accompanied a serious attack on the individuals and the community which was being demonised."
"Criminalisation was not about us who went to prison but about the politics we espoused and even now, 30 years later, those politics are still regarded by the great and the good as semi-legitimate," said Laurence McKeown.
"We are here today as former prisoners and family members to say that our politics are no different now from what they were in 1976 or 1981.
"We are here today proud of our past, proud of the role we have played. We took all the British establishment had to throw at us and came through it. It cost us and our families and our communities. It cost us a lot, but unlike some others, we have a vision and that vision is alive and vibrant today as a direct result of those attempts to criminalise us and our struggle. And those who refuse to learn the lessons of history are doomed to repeat its failures".
Rosie McCorley, who spent nine years in Maghaberry Prison and was released under the terms of the Good Friday Agreement, spoke of the many women she met while in prison and how they impacted greatly on her. "I often found myself feeling greatly humbled by their stories and the sacrifices they made in their personal lives for the struggle, particularly those women who were mothers."
Now working with Coiste McCorley outlined the work carried out by the various ex-prisoner groups throughout the country.
McCorley highlighted the fact that legal barriers still exist preventing ex-prisoners from enjoying the status of full citizenship in Irish society.
"Prisoners still suffer discrimination in employment and also deprived of compensation. They are banned from travelling to certain countries," she said.
"We reject all these barriers; we reject all attempts to discriminate against us because of our role in this struggle; we reject the label of criminal and we will never allow ourselves to be criminalised."