14 April 2005 Edition
Governments face significant challenges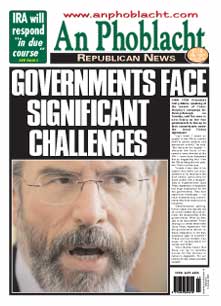 Sinn Féin President Gerry Adams, speaking at the launch of Conor Murphy's campaign for Newry and Armagh on Tuesday, said the onus is now firmly on the two governments to live up to their commitments under the Good Friday Agreement.
"Last week I made an appeal to the IRA to commit itself to purely political and democratic activity," he said. "But because my appeal - because the focus of my remarks were directed at the IRA - some have interpreted this as suggesting that I see the IRA as being the only problem. That is not the case.
"I made it very clear in my speech that there are many problems to be resolved in the time ahead, particularly for those parties with a responsibility to implement the Good Friday Agreement. It especially has huge implications for the two governments. They face significant challenges - not least implementing commitments they have made and not honoured.
"Demilitarisation, policing, human rights and equality are all crucial matters that are primarily the responsibility of the governments. What do they plan to do about these? Power sharing is a central tenet of the Good Friday Agreement. Will the governments deliver on these obligations or will they acquiesce again to unionism? These are key matters, key areas of responsibility for London and Dublin.
"My initiative means that there can be no possible excuse for the process to remain in stagnation. So I am looking for the widest possible support."