16 March 2005 Edition
Cory and Saville reject British legislation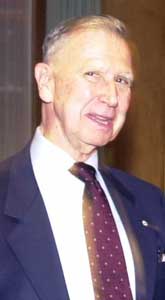 Retired Canadian judge Peter Cory, who recommended public inquiries into the killings of Pat Finucane, Robert Hamill in Portadown and Lurgan solicitor Rosemary Nelson, after investigating links between loyalist paramilitaries and British crown forces in the killings, said the attempt by Tony Blair's government to limit the scope of the inquiry would make an independent investigation impossible.
Cory said he didn't know of any self respecting Canadian judge who would be part of it in light of the restrictions the new legislation would impose.
"If this act had been in place at the time to set up an inquiry, I don't think that there is a judge who would take it on," he said. "It is too restrictive, independence would be impossible".
The proposed Inquiry Bill has already been sharply criticised by Chairman of the Bloody Sunday inquiry, Lord Saville, who said he would not be prepared to be a member of an inquiry if a government minister was at his back with powers to exclude the public or evidence from the hearings.
"I take the view that this provision makes a serious inroad into the independence of any inquiry," he said. "It is likely to damage public confidence in the inquiry and its findings, especially in any case where the conduct of the authorities may be in question," he said.
Saville said that the inquiry should itself have the power to decide what evidence was heard in public and what documents were published.
"The idea that this would not be done by the inquiry but by the British government, which has a vested interest in the findings, strikes me as unacceptable," he said.
Saville's concerns are shared by the British Lord Chief Justice, Lord Woolf, and other British legal figures.