16 March 2005 Edition
No British concessions on Finucane case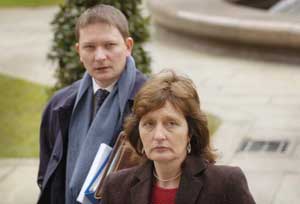 At a meeting in London on Friday 11 March, serious divisions emerged between the NIO and the Dublin Government over the proposed public inquiry into the 1989 killing by the UDA of Belfast solicitor Pat Finucane.
Irish officials sought concessions on the shape of the British Inquiries Bill, which will give British Ministers the power to order inquiries to hear evidence in private and to bar the production of evidence altogether to protect 'British national security'.
The Dublin Government wants the inquiry into the Finucane killing to be held under the 1921 Tribunals of Inquiry Act, which allows for hearings in public. Failing that, the Irish want a change to Clause 20 of the Inquiries bill so that British Ministers could not restrict such an investigation.
A spokesperson for the Dublin Government said that the Taoiseach intends to raise the British stand during his meeting with President George Bush in Washington.
News of the rift came after Geraldine and Michael Finucane held a one-hour meeting with Bertie Ahern in Dublin on Wednesday 9 March to discuss the failure of the British Government to honour its obligation to set up an independent inquiry into her husband's killing under the Weston Park Agreement.
Speaking after the meeting, the solicitor's son, Michael Finucane, said Ahern had given the family assurances that he would push the British government to set up the public inquiry as outlined during key political negotiations.
"The Taoiseach told us he has been in continuous contact with Tony Blair about the need for an independent public judicial tribunal of inquiry. He said that under the Weston Park Agreement the British were required to establish an inquiry that complied with the recommendations of Judge Peter Cory."
Michael Finucane said Ahern assured his family that there would be no compromise on this issue and that the Irish government will not support the Inquiries Bill as proposed.
"Ahern told us that the Irish government's support for the Finucane family is as strong as ever and that when he and his delegation travel to the US during St Patrick's week, he will be raising the case at all meetings and stating clearly that the British Government was not fulfilling their obligations and that an inquiry established under the Inquiries Bill would not be satisfactory by his government or the Finucane family."
Geraldine Finucane will also travel to the US, where she will address a special Congressional hearing on Wednesday 16 March into her husband's killing. US Special Envoy Dr Mitchell Reiss and Jean Winters of British Irish Human Rights Watch will also testify at the congressional hearing in Washington.