16 March 2005 Edition
Orde challenged over McCartney investigation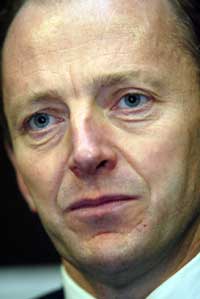 Sinn Féin Chief Negotiator Martin McGuinness has challenged the PSNI Chief Constable to publicly explain the handling by his detectives of the investigation into the killing of Belfast man Robert McCartney.
He was speaking in Belfast on Tuesday after it was revealed that both a key witness and a key suspect in the case were earlier this week turned away and prevented from making additional statements to the PSNI.
McGuinness says there is growing evidence that the PSNI are holding back on charging suspects in an attempt to damage Sinn Féin.
Robert McCartney was killed on 30 January after a row in Magennis's Bar spilled out into a nearby street. Another man, Brendan Devine, was also stabbed.
Now it is being reported that Devine, who gave a taped statement to the PSNI shortly after the incident in which he identified by name a number of those involved, went to the PSNI on Monday 14 March to make a written statement.
However, the PSNI sent him away, saying that the senior detective in charge of the case was not available.
This would have allowed immediate arrests and charges to be brought.
Also on Monday, the solicitor of one of the main suspects in the case contacted the PSNI at Antrim Barracks twice over the course of several hours to say his client was available for interview, but the PSNI did not respond. The second time he was told that the senior investigating detective was away at a conference and police did not have the manpower to deal with his client.
The spokesperson then suggested that he should "call back in a couple of days".
An Phoblacht has also been told that the PSNI already have detailed statements from two other men who were in the bar on 30 January, and that both identified by name some of those said to be involved in the events that occurred inside and outside the bar.
"We have very grave concerns around the way Hugh Orde and the PSNI have dragged out the investigation into Mr McCartney's death," Martin McGuinness told reporters on Tuesday.
"Republicans have suspected that the PSNI are tailoring their investigation to cause maximum damage to Sinn Féin. The revelation that the PSNI turned away a key witness and a key suspect adds further weight to this suspicion.
"In such a high-profile murder investigation it beggars belief that the PSNI would reject the offer of an eyewitness statement from a key witness, and the opportunity to interview a key suspect who they claim to have been searching for — but this is what has happened.
"It is also clear that eyewitness testimony, which identifies some of those involved in the attack on Robert McCartney, has been ignored and that a decision has been made not to arrest and charge those identified by the eyewitness.
"The normal police practice of quickly putting suspects into an identity parade has not happened, despite the fact that the PSNI know who was involved and has eyewitness evidence about this.
"This underlines the fact that politics rather than justice is driving the PSNI investigation, and raises serious questions about the PSNI's handling of the case."
"We need to be asking why a chief suspect was turned away. That's incredible. It's unprecedented. Never in the history of the Troubles has a chief suspect been turned away and told to come back in three days time."
"Malicious interpretation"
Meanwhile, refuting recent Press Association reports that he had 'warned' the McCartney family against entering the political arena, McGuinness told the attending media that the reports were a "malicious interpretation" of his remarks.
"I didn't issue any such warning," said McGuinness, pointedly.
"Media reports being supplied by the Press Association Wire service which were attributed to me are inaccurate and misleading. This report attributes words to me that I did not use.
"I at no time warned the family about entering the political arena. What I was cautioning against was them being manipulated by others for ulterior and political purposes and I intend to take this matter up with the Press Complaints Commission.
"I am fully in support of the McCartney family, and I believe that bringing those responsible for their brother's death to justice is their sole motivation - but I also believe that they are surrounded by some people who have a very different agenda.
"We have people like Anthony MacIntyre — who is against the Peace Process and very hostile to our party — describing himself as 'an advisor to the McCartney family'. That is the kind of thing I was cautioning against.
"My position is quite clear. My support for the McCartney family in their demand for truth and justice is 100%."
The Sinn Féin politician also responded to the media scapegoating of three party members who were in Magennis's on 30 January, former Sinn Féin Councillor Sean Hayes, Assembly election candidate Cora Groogan and a candidate for the upcoming council elections, Deirdre Hargan.
McGuinness told the media that the call by Gerry Adams for party members to give a full and frank account of what they knew of the incident on 30 January also applied to those three.
However, he pointed out that both Hargan and Hayes had given their names and contact numbers to the PSNI on the night and had yet to hear from them, while Groogan had given a statement to her solicitor and was expecting it to be forwarded to the Police Ombudsman.