10 March 2005 Edition
Support for Colombia Three family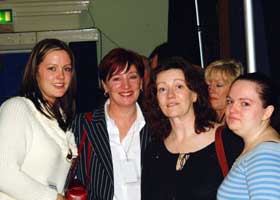 Ann O'Sullivan, from the POW Department, introducing the section of the Ard Fheis on prisoners. She said "it is important that we remember our imprisoned comrades in Ireland and abroad and those fighting extradition. We send solidarity greetings to them and their families.
"I also want to mention the Colombia Three and in particular their families, who have been to hell and back over the past three years. I look forward to the day when we welcome them and our imprisoned comrades home."
She read out statements from republican prisoners in Castlerea and Portlaoise. The prisoners expressed support for the Peace Process and thanked all those who had negotiated and campaigned for the release of the four remaining qualifying prisoners under the Good Friday Agreement and reiterated their call for the men's release from Castlerea under the terms of the Agreement.
This point was reiterated by Councillor Cionnaith Ó Súileabháin, who, conceding that this is "a difficult and emotional subject" for the families of the two Gardaí who had been shot, pointed out that the four men qualify under the Agreement and "should be released as a matter of urgency".
Deirdre Whelan spoke on behalf of An Cumann Cabhrach, which gives assistance to republican prisoners and their families. She recalled that it was the late Joe Cahill who had taken on this role in previous years but was delighted to announce that Annie Cahill had agreed to become honourary president of the organisation.
"There are still republican prisoners and they and their families need our help," said Deirdre. "It is our duty as republicans not to be found wanting."
Dublin TD Seán Crowe highlighted the plight of the Colombia Three, who, he said, are determined to clear their names and will be appealing internationally.
"I suspect if they were British, Spanish, French, German or even North American, their government would have demanded their release and repatriation," he said. "The question is, why hasn't the Irish government done this?"
Cristín and Orla McCauley, partner and daughter of Martin McCauley, were then invited to the podium, to sustained applause. As her daughter gave silent but tearful support, Cristín McCauley told of the emotional rollercoaster ride her family had been through in the previous year, as first the men were acquitted, only for the Colombian appeal court to reverse this decision.
"We haven't heard from Martin since last June," she said. None of the men have been in touch for nine months. I last saw Martin on a visit a year ago.
"This conviction has to be overturned. It's disgusting. There was no evidence against the men.
"I don't know what lies ahead. We're here to thank you for the practical and moral support over the last four years."
"It's our 20th wedding anniversary on Wednesday. I don't know what it's like for the men, not seeing their children. Please remember them in your thoughts and prayers. Go raibh míle maith agaibh."