10 March 2005 Edition
The most important thing we can do is rebuild the Peace Process - Gerry Adams Presidential Address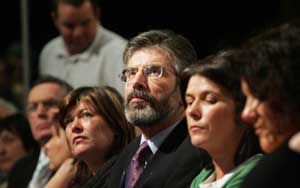 A Chairde, seo bliain an chomóradh Céad Bliain ar an tsaol do Sinn Féin.
Ba mhaith liom fáilte a chur roimh gach duine atá anseo inniu, na hoifigigh, an ceannaireacht, na baill uilig agus chomh maith leis sin ár gcairde ón tír seo agus thar lear.
Tá súil agam go bhfuil sibh ag baint sult as an chaint agus dióspoireacht thar an deireadh seachtaine.
I want to thank you all for the very warm welcome you gave me, but more importantly, for the warm welcome you gave to the McCartney family.
I want to welcome all of you here to this very unique gathering, the Ard Fheis, in the centenary year, of the only all-Ireland political party on this island.
An Céad - Centenary Year
100 years ago Sinn Féin was founded in this city.
This year Irish republicans will celebrate that event in every part of this island and beyond and begin preparations to commemorate the 25th anniversary of the 1981 Hunger Strikes.
It will be a year of education and debate. It will be a year in which we will further advance our cause.
When the idea of Sinn Féin was conceived Ireland was awakening from the nightmare of the 19th Century.
But even in the midst of these horrors some dared to dream of a different Ireland — a free Ireland. And from the beginning, while always asserting that the end of the Union was in the interests of all the people of this island, Sinn Féin extended a hand of friendship to unionists.
It was a time of renewal and rebirth. It was a great period of debate, of exchanges of ideas as leaders and thinkers and activists, men and women, dreamers all, met and influenced each other.
The result was the 1916 Rising and the Proclamation of the Irish Republic, the founding document of modern Irish Republicanism and a charter of liberty of international as well as national importance.
Comrades, it is our task - our responsibility - to see the vision of that Proclamation realised.
I want to formally greet our international visitors, our delegates, members and activists and our Friends of Sinn Féin from the United States, Australia and Canada.
I want to extend a particular céad míle failte to our team of MLAs, our MPs, our TDs, and especially to all the councillors elected here in the south since our last Ard Fheis.
I want to particularly commend Caoimhghín Ó Caoláin, the other TDs and our entire Leinster House team for the sterling service they give to this party.
I want to thank you all, particularly those who stood as candidates for our party, whether you were elected or not. And Pearse Doherty represents all of you because his campaign is proof of what can be achieved.
And of course and especially, I want to thank everyone who votes for the Sinn Féin party.
There are others I want to welcome to the Ard Fheis. Annie Cahill, who is here in her own right, and Annie's presence reminds us of our friend and leader, Joe Cahill.
A special welcome also to our newly elected MEPs.
You will see that there are changes in our national officer board. I want to thank Robbie Smith for his work as Ard Runaí and welcome Mitchel McLaughlin into that position.
And I want to welcome Mary Lou McDonald, who will be taking on the challenge of Cathaoirleach, or National Chair of Sinn Féin.
Comhghairdeas mór d'achan duine a thug vóta agus cuidíu dúinn sna toghcháin le bliain anuas. Comhghairdeas d'ár n-iarrthóirí uilig.
The Murder of Robert McCartney
I want to welcome Robert McCartney's sisters. Céad míle fáilte do Paula, Catherine, Gemma, Donna agus Claire. They are here on my invitation, because I wanted to demonstrate to Bridgeen and her children and to the entire and wider McCartney family that we are on their side.
I want to thank you. I know it's very difficult, you've buried your brother only a few short weeks ago, and it's very difficult to come here with all of the noise and all of the pressure that you are under, so I thank you for your presence.
Robert's murder was dreadful, not only because of the way he died and not only because it robbed his family of a father and a partner, a brother and a son.
His murder was dreadful because some republicans were involved in it.
And that makes this a huge issue for us.
As President of Sinn Féin, as an individual, I could not campaign for the victims of British or unionist paramilitary thuggery, if I was not as clear and as committed to justice for the McCartney family.
I have pledged them my support and the support of this party. I am looking to every member of this party to follow the lead which I have been giving.
Those responsible, and there's no way out of this, for the brutal killing of Robert McCartney should admit to what they did in a court of law.
That is the only decent thing for them to do. Those with any information should come forward. And I repeat what I said before, I am not letting this issue go until those who have sullied the name of the republican cause are made to account for their actions.
Republicans Reject Criminality
Twenty five years ago, Margaret Thatcher couldn't criminalise us. The women prisoners in Armagh and the blanketmen and the hunger strikers in Long Kesh wouldn't allow her.
That was then; this is now.
Michael McDowell has stepped into Margaret Thatcher's shoes. But he will not criminalise us either, because we will not allow him.
And we won't allow anyone within republican ranks to criminalise this party or this struggle.
There is no place in republicanism for anyone involved in criminality.
Our detractors will say we have a particular view of what criminality is.
We have not. We know what a crime is both in the moral and legal sense, and our view is the same as the majority of people. We know that breaking the law is a crime.
But we refuse to criminalise those who break the law in pursuit of legitimate political objectives.
Are we saying republicans can do no wrong? Of course not.
We need to be as strong minded in facing up to wrong doing by republicans, as we are in opposing wrong doing by anyone else.
Campaigning for Irish unity
Sinn Féin is accused of recognising the Army Council of the IRA as the legitimate government of this island. That is not the case.
The supreme governing and legislative body of Sinn Féin is the Ard Fheis.
This is where this party makes our big decisions. This is where we elect our leadership, agree our policies and set in place our strategies.
I do not believe that the Army Council is the government of Ireland.
Such a government will only exist when all the people of this island elect it.
Does Sinn Féin accept the institutions of this state as the legitimate institutions of this state?
Of course we do. But we are critical of these institutions. We are entitled to be.
The freedom won by those, who gave their lives in 1916 and in other periods, has been squandered by others who attained political power on their backs.
Apart from our criticism of the institutions themselves the reality is that they are partitionist and we want to see not only better institutions but an open, transparent government representative of all the people of this island - and we make no apologies for that.
Do we accept partition? No, we do not accept partition.
Do we accept British rule in our country? No, we do not.
Do we want a United Ireland? Yes.
Last week, we launched our campaign for the Irish government to bring forward a Green Paper on Irish Unity.
We want to see a grass roots discussion on all these issues. We want the government to formalise that debate and to fulfil its constitutional obligation.
Ba mhaith linn daoine ó gach cearn den tír seo Doire go Corcaigh, Baile Atha Cliath go Gaillimh, Ciarraí go Tyrone labhairt faoi seo.
Our opponents claim that we are a threat to this state.
We are a threat to those who preside over growing hospital waiting lists, a two-tier health service, a housing crisis, a transport crisis and much more, all within an economy which is one of the wealthiest in Europe.
We are a threat to those who believe that inequality is a good thing.
Partitionism is deeply ingrained within elements of the political establishment. It could not be otherwise after over 80 years.
We are a threat to those who want to see partition sustained and maintained, because it protects the status quo.
We are a threat to those who oppose the peace process.
We are a threat to vested interests.
We make no apologies for any of this.
The threat we pose is entirely democratic and peaceful.
The threat we pose is the radical, progressive, political party we are building right across the island of Ireland.
The threat we pose comes from the genuine allegiance and voluntary support of increasing numbers of people who want a very different society from that envisaged by those in government or opposition in the south or from within the old power blocs in the north.
The Peace Process in Crisis
We are people in struggle. We are a party, which prides itself on our ability to face up to challenges and find solutions.
We need to be forthright therefore in recognising the depth of the crisis in the peace process and the shared responsibility for this.
Almost a year ago, speaking in Ballymun I warned that the Irish government was actively considering the exclusion of Sinn Féin from the political process.
I warned that it was actively considering going back to the old agenda - to the failed policies and the crude politics of negative campaigning.
I made a direct appeal to Fianna Fáil members and supporters, and to nationalists and republicans the length and breadth of this island, to join with us in re-asserting the primacy of the peace process.
Why did I make those remarks at that time?
I did so because at the Fianna Fáil Ard Fheis, Minister after Minister lined up to attack Sinn Féin. And it was the same at all the other party conferences.
This had been their disposition since Sinn Féin's gains in the general election of May 2002, and the establishment's defeat in the Nice Treaty referendum in 2001.
So, they didn't want to talk about hospital closures, the lack of affordable housing, sub-standard school buildings, Irish sovereignty, the crumbling peace process, or the fact that their republicanism ends at the border.
They didn't want to talk about the endless lists of broken promises trotted out by the establishment parties.
What they were very focused on was the upcoming local government and European Union elections.
Remember the Taoiseach's relief when Nicky Kehoe just missed a seat by only 74 votes - in the Taoiseach's own constituency. That was the election when the PDs said that Fianna Fáil was too corrupt and too dishonest to be in government, before going on to join them in government.
In November 2003 Sinn Féin moved into becoming the largest pro-Agreement party in the north.
That followed a lengthy negotiation which commenced after our negotiating team had obtained a firm commitment to a date for the postponed Assembly elections from the British Prime Minister Tony Blair.
The Irish government deeply resented our success in achieving that.
Getting the British government to recognise that right was an achievement but it was not the aim of our negotiations. It was a necessary prerequisite for them.
The aim of the negotiations was to get the Good Friday Agreement moving forward, anchored in the political institutions, including the Assembly, and the all-Ireland political infrastructure.
Both governments doubted that David Trimble could be brought to embrace those concepts in the negotiations of that time. But in talks between the Sinn Féin leadership and the leadership of the UUP Mr. Trimble agreed to do just that. He agreed to play a full part in the political institutions, in the context of the IRA putting arms beyond use once again.
Tony Blair knows this. Bertie Ahern knows this
And the IRA put arms beyond use - for a third time. And I outlined a peaceful direction for everyone to follow.
But as is now infamously known, Mr Trimble walked away from that commitment following General de Chastelain's press conference.
Mr Trimble wasn't on his own. The Taoiseach and the British Prime Minister walked away as well.
The Old Consensus
Of course by now the Irish government was accusing us of being in a 'power process' not a peace process.
The election of Mary Lou McDonald and Bairbre de Brún and the surge of support for Sinn Féin in the local government contests across this state was the last straw for the establishment. The old consensus re-emerged.
Dhruid siad na ranganna agus thosaigh siad ag díriú isteach ar poblachtánaigh arís, ag ionsaí orthu sa phreas agus sa Dáil.
The leaderships of the Labour Party and Fine Gael have never been comfortable with the peace process. Now they colluded, once again, in a vicious anti-Sinn Féin agenda, and Fianna Fáil Ministers increasingly borrowed the invective of Michael McDowell's rhetoric.
At the same time the DUP had emerged as the largest party in the north.
Working for a New Agreement
At Bodenstown I pointed out that the only way for Sinn Féin to meet these challenges was through putting together an inclusive agreement.
I spelt out the need for republicans to take initiatives to bring about completion of the issues of policing and justice, the issues of armed groups and arms, and the issues of human rights, equality and sectarianism.
I also spelt out the need for full participation in the political institutions by the unionist parties.
Our objective was clear. To restore the political institutions and end the crisis in the process.
At that time both governments had bought into a DUP timeframe and put off negotiations until September.
It was left to republicans over the summer months, along with some very brave people from unionist neighbourhoods, to keep the peace over the Orange marching season.
And we accomplished this because of the courage of our representatives, including Gerry Kelly, even when the British Secretary of State Paul Murphy, the PSNI and the British parachute regiment pushed an unwelcome Orange march through Ardoyne.
I don't think a lot of republicans took me seriously when I pointed up the need for us to push for a comprehensive holistic agreement - and with good reason.
That good reason was Ian Paisley.
Republicans and everyone else, including many within the DUP, could not envisage a scenario where Ian Paisley would want to share power with the rest of us.
Our objective was to create the conditions in which Ian Paisley would join with us in the new dispensation set out in the Good Friday Agreement.
It wasn't that he would want to. Of course, he doesn't want to. Our intention was to ensure that he had no option - if he wants political power, he has to share it with us.
It was also my view that unionism was using the IRA as an excuse to prevent progress.
I said that in an unrehearsed remark. And I went on to say that republicans needed to remove that excuse from unionism.
Difficult Negotiations
As November moved into December, Ian Paisley, for the first time in his lengthy political career, was being challenged by the willingness of the Sinn Féin leadership to use our influence once again to resolve the problems which he was putting up as obstacles, and as a condition for his participation in the structures of the Good Friday Agreement.
These negotiations were the most difficult that I have been involved in. Not least because of the approach of the British and Irish governments.
They bought into the Paisleyite agenda at every turn.
Sinn Féin's approach was twofold.
We were trying to get the DUP on board. We were also trying to ensure that any proposals from the governments, and any agreement emerging from these discussions was rooted firmly in the Good Friday Agreement.
At the beginning of these negotiations the governments agreed that if the DUP was not up for a deal then the two governments would come forward with proposals to move the process forward.
Tá muid ag fanacht leis na moltaí sin go fóill.
By this time republicans were starting to get increasingly unsettled.
Even the cynical and dubious were starting to contemplate the possibility that Paisley might; just might do a deal.
That wasn't why they were unsettled. They were unsettled about the price which was being demanded. They were grappling with the issue of policing, alongside other issues.
It is my view that we would have risen to these challenges in the context of an agreement, even though they created profound difficulties for us.
And what was the contribution from republicans?
The IRA leadership had agreed, in the context of a comprehensive agreement:
· to support a comprehensive agreement by moving into a new mode
· to give instructions to all its Volunteers not to engage in any activity which might endanger that agreement
· to conclude the process to completely and verifiably put all their arms beyond use, speedily, and if possible, by last Christmas
· to allow two clergymen to be present as observers during this process.
Policing
I also agreed in a given context to ask the Ard Chomhairle to call a special Ard Fheis to consider our attitude to the PSNI.
Policing is a key issue. In our view it can only be conducted as a public service by those who are democratically accountable.
And while progress has been made, the PSNI has not yet been brought to that point.
Sinn Féin is actively working to create an accountable policing service. We support a range of restorative justice and community initiatives to deal with the problems created by the absence of an acceptable policing service in the north.
Let me digress briefly to make an important point.
The policing vacuum cannot be filled by physical punishments, no matter how frustrated communities may be by those who engage in anti-social behaviour.
There is no place for so-called punishment beatings or shootings. Our party has a lengthy opposition to these.
In our view, they are counter productive. They should stop.
This party was also in December prepared to share power with the DUP. That remains our position.
There is no reason not to. We respect their mandate. We got them to accept the Good Friday Agreement. For their part the two governments pledged to honour commitments made repeatedly and unfulfilled by them in the past on a range of outstanding and important issues of rights, demilitarisation, equality, prisoners and so on.
Then it all came unstuck.
Ian Paisley delivered his 'acts of humiliation' speech. Mr Paisley's desire to "humiliate republicans"; to have republicans "wear sack cloth and ashes"; and the DUP's constant use of offensive language, was not and is not the language of peace making.
For many across nationalist and republican Ireland this was too much.
The governments supported the DUP position that the IRA be photographed putting their arms beyond use.
Ian Paisley didn't even have to negotiate for this demand. The two governments supported it from the beginning. It was a demand, not surprising, that Sinn Féin could not deliver.
A partnership of equals cannot be built through a process of humiliation.
The governments went ahead and launched their draft outline of a comprehensive agreement, even though there was no agreement.
New negotiations
You will recall that the two governments gave a commitment at the beginning of this negotiation to find a way forward if there was a failure to get a deal. So Sinn Féin and the British government entered into new talks.
The Irish government should have been there. But the Irish government refused to attend.
The British government set out their views. They agreed to talk to the Irish government to try and agree a joint government paper and bring it back to us.
We gave the British government written proposals of what we thought was required, and we sent a copy to the Irish government.
The British drafted a written response to this and when Mr. Blair met the Taoiseach in Brussels they discussed these matters.
But at our next meeting the British told us that the Irish government would not agree a paper with them, did not want them to present any paper to us, and had reservations about this approach.
During this period I was constantly in contact with the Taoiseach's department and the government was eventually persuaded to send senior officials to a trilateral meeting. It was a good meeting even though the officials were only there as observers.
The Northern Bank Robbery
After that meeting we broke for Christmas. Then came news of the Northern Bank robbery.
The IRA is accused of that robbery. And of other incidents. It denies this. I accept those denials. Others don't. That's fair enough.
The truth is that no one knows at this time who did the robbery, except the people involved.
Martin McGuinness and I were accused by the Taoiseach of having prior knowledge. That is untrue.
But one thing is for certain. Activities like this have no place in the peace process.
The rest is history or what passes for history in these McCarthyite times.
Sending a Clear Message
Just two months ago the process was close to a deal which many thought was not possible. Now the momentum is going in the other direction.
As a first step in trying to move the process out of this crisis I want to send a very, very clear signal to everyone from this Ard Fheis.
That message is that the peace process is the only way forward.
Níl aon bhealach eile, is cuma cé chomh deacair is atá sé, caithfidh muid an phróiseas a chur le chéile aris.
The peace process is our struggle
Republicans must make sure that we recognise failures in the process quickly; that we assess them; that we criticise ourselves where necessary; that we learn what has to be learned and emerge stronger and more able to fulfil our historic mission.
We will learn to improve and strengthen our struggle.
And let me make it clear the peace process is our struggle.
It is as a result of our tenacity that the balance of forces has changed on this island to the extent that the conservative parties are now seeking to stunt and to stop the growth of the main vehicle of struggle - that is Sinn Féin.
I am also very conscious that a lot of the effort to damage Sinn Féin is through targeting me and others in our national leadership.
Our opponents are trying to damage my credibility on the premise that that damages your credibility and our ability to pursue our objectives.
In the normal cut and thrust of party politics let me tell you that I would not put up with these highly personalised attacks.
I would not put up with the campaign of vilification by those who are interested only in petty or narrow-minded party political concerns.
It isn't worth it. But this isn't about me, it is about the Peace Process.
I have no personal political ambitions. That is not a criticism of those who have.
But the peace process is bigger than party politics. So is the right of the people of this island to live together in freedom and in peace and with justice.
That is why I am an Irish republican.
I believe the people of this island - orange and green united - can order our own affairs better than any British government.
That is why I have given my life to this struggle. That is why I take my responsibilities so seriously.
The national responsibility of the Irish government
There is also a heavy responsibility on the Irish government.
It needs to demonstrate that it is as committed to change as its rhetoric implies.
The Taoiseach needs to consider whether the invective of his own Ministers and some of his own remarks are creating the atmosphere necessary for constructive engagement.
He needs to consider whether his government's current strategy is the right way to go forward.
Such approaches were tried in the past - they failed.
Sinn Féin has always worked in good faith with the Taoiseach - for over a decade now.
I have acknowledged his contribution and I do so again.
The peace process was never above politics but it should always be above party politics.
Of course there are disagreements.
But there was a sense of nationalists working together. That while we may disagree on tactics we were going in the same direction. All that has changed. Because in the script written by the Irish and British establishments, Sinn Féin was never meant to be anything more than a bit player.
The fact is that we are now the largest pro-Agreement party in the north and the third largest party on the island.
Of course the government wants the process to succeed, but now its trying to do this solely on its terms. And that cannot work.
The IRA
The British and Irish governments are seeking to reduce all of the issues to one - that is the issue of the IRA.
Historically and in essence the Irish Republican Army is a response to British rule in Ireland.
It is a response to deep injustice.
In contemporary terms it is evidence of the failure of politics in the north and a consequence of the abandonment by successive Dublin governments of nationalists in that part of our country.
And let me be clear about this.
Our leadership is working to create the conditions where the IRA ceases to exist.
Do I believe this can be achieved? Yes I do.
But I do not believe that the IRA can be wished away, or ridiculed or embarrassed or demonised or repressed out of existence.
Hundreds of IRA Volunteers have fallen in the struggle.
There is justifiable pride among republican families and communities about the role of their loved ones.
When people decided to take up arms it was because they believed there was no alternative.
But there is an alternative. That is a positive.
It is in tatters. But it can be rebuilt. That is another positive.
The IRA cessation continues. That also is a positive.
The IRA has demonstrated time and again its commitment to support genuine efforts to secure Irish freedom by peaceful means. Another positive.
I take nothing for granted. But let no one ignore, diminish or belittle the progress that has been made.
Republicans are up for the Challenge
The peace process has been one of the greatest achievements of this generation.
And I'm not just talking about our contribution - though that should not be undervalued or dismissed.
But we take pride also in our achievements thus far. And we are determined to play a positive role both in the process and in the political life of this nation.
Sinn Féin wants to tackle the problems now.
It has never been in our interest to prolong the peace process.
It does not serve those we represent or the country as a whole.
Elements of the British system, elements of unionism and unionist paramilitaries, elements on the fringes of republicanism, do not want this process to succeed.
Sinn Féin is battling against all these - day in and day out in parts of the north. And we're not about to give up.
We know that as long as we make progress toward the achievement of our goals those who fundamentally disagree with those goals will resort to foul means or fair to deny us the possibility of moving forward.
So this is not a time for republicans to be inward looking.
It is a time for forward thinking, for facing up to the issues.
Sinn Féin has used our influence with the IRA in a positive way.
I believe there is merit in us continuing to do this.
But we cannot make peace on our own.
We cannot implement the Good Friday Agreement on our own.
We cannot establish a working viable power sharing government on our own.
We cannot resolve the outstanding issues of policing, and demilitarisation, and equality and human rights on our own.
The British and Irish governments and the unionists have their parts to play. Whatever else happens the peace process is our priority.
Inevitably, that will mean more hard choices, more hard decisions for Irish republicans as we push ahead with our political project and as we seek to achieve a United Ireland.
Those who want fundamental change have to stretch the furthest and take the greatest risks.
Let us continue, despite the difficulties, to reach out to unionism to build a just and lasting peace.
Ian Paisley says he is willing to share power with us.
Well, let us test him. And again.
We know it will be a battle a day.
Building an Ireland of equals
Fundamental to Sinn Féin since its foundation has been the belief that the Irish people have the capacity to shape our own society, to build our own economy and to govern our own country to suit our needs and our character as a nation.
The past decade has seen an unprecedented growth in the Irish economy. But the management of that economy by the Government in this State has not challenged the deep-seated inequality in Irish society.
This inequality exists at many levels.
For example, people with disabilities have no legislative rights, and the Celtic Tiger stops at the border.
The north survives on subsidies from the British Exchequer and with some of the highest levels of poverty in Western Europe.
In this part of the island, the gap between rich and poor has widened.
It is a scandal that 15% of children under 15 in this State suffer from poverty.
The public services which working people pay for through taxation have been mismanaged, badly planned and neglected by successive Governments.
Our health services limp from crisis to crisis, especially in the disgraceful state of accident and emergency units.
Because of underfunding and lack of resources, our education system is struggling to cope.
Children with special needs are not provided with the facilities they require and are entitled to.
The Fianna Fáil/PD Government has no housing policy. It leaves it all to private developers to reap big profits as housing prices spiral beyond the reach of people on average incomes. Those with a mortgage face decades of debt.
Many, some on quite high wages, find themselves in badly planned new housing estates without schools, public transport or childcare.
The government has not used the prosperity wisely for the benefit of the maximum number of people. In fact the court recently ruled that deductions taken from old peoples pensions in state homes is illegal. This practice was defended by the Tánaiste but in truth all the other parties endorsed it, as did successive governments over the years. It is still not clear how much was robbed from senior citizens but the government's own estimates put it between €500 million and €2 billion, stolen from the aged in this state by this government and their predecessors.
So the government has not invested in the people or in the future.
It's Time for Change
But we all know this.
We know the failures of successive governments - the point is to find the solutions.
And that is what Sinn Féin is about.
We are working with people to bring about real change for the better now - not at some distant time in the future.
And we measure our success by the amount of positive change we have brought about.
For example, after Sinn Féin's recent gains, the Government rediscovered its social conscience.
They have yet to properly address these issues but they have been moved.
So too on the National Question. The growth of Sinn Féin has forced most of the parties to rediscover their nationalist or republican roots. That reflects public support for these concepts.
Public support for the peace process will also bring our opponents back to that process as well. But progress demands more than rhetoric from these other parties.
Sinn Féin needs to continue to grow.
Flowing from this our centenary year, our aim is to have a Sinn Féin cumann in every electoral ward across Ireland.
We have to open our party up to women and to people who will bring their own life experiences and values.
We need to build a national mood for positive change, which harnesses the creative power of what people do best in society - the imagination and energy of children and young people; the commitment of parents and carers; the dedication of those who work tirelessly in the voluntary, and community sector; or in the health services; and the skills and talents of workers in many fields.
Sinn Féin has no copyright on this. There is plenty of work and space for everyone.
So let us move the struggle on in the widest sense possible.
Let us move it forward also by building our party.
We will face the Meath by-election, toghcháin Údarás na Gaeltachta and Local Government and Westminster elections in the North, a referendum on the EU Constitution.
So there is a lot of organising and recruitment work to be done and I want to appeal to people to join Sinn Féin.
I want to commend Ógra Sinn Féin and An Phoblacht for the work that they do.
A lot of my remarks are aimed at other political parties and at ourselves. The British government scarcely gets a mention. That is a sign of these times. I am conscious also of conflicts and famines and disasters in other parts of the world. I am conscious of efforts to resolve problems in the Middle East. I salute these efforts and I salute the Palestinian Ambassador who is here with us today.
And I watch all this, and I watch it with great hope, but back here in our country, the imperatives of Irish domestic politics tear the Irish peace process asunder.
Now, we have to face up to what has to be done and others have to face up to what has to be done also. There is no other way forward. I don't believe the Irish people, certainly not republican and nationalist people, want to see this process go under
They want us to go into government with the DUP, and it is my conviction that we will, and they want all of us, they want the Irish government particularly, to join in part of the challenge of putting it up to the British government; for the first time to do the right thing by Ireland.
People in this hall know what British rule means.
We've been in the prison ships, we've been in the prison camps, we've been locked away in prison cells. We've been degraded in the torture centres and condemned by no-jury kangaroo courts.
We've suffered plastic bullets and rubber bullets and lead bullets. We have been gassed and water cannoned. We too have buried loved ones.
We have been censored but never been silenced. We have been excluded. We have been demonised. We have been battered. We have faced up to riot squads and death squads and heavy gangs.
But we've never been beaten.
The most important thing we can do at this time is to rebuild the peace process.
And we are up to that task. We could not be turned back by all these brutalities waged against us for decades, and turning back is not an option for Sinn Féin.
We're moving forward. We're moving forward to a better future.
Leanagaí ar aghaidh agus leanaigí ar aghaidh linn.
Go raibh míle maith agaibh.