10 March 2005 Edition
RFJ rejects British 'cold case' squad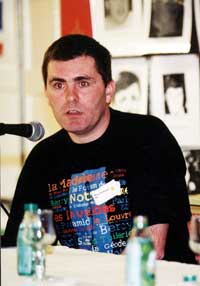 The announcement that the British Government is to fund the PSNI to investigate up to 2,000 unsolved killings from 1968 to 1998 has met with criticism from Sinn Féin and human rights groups.
British Secretary of State Paul Murphy and PSNI boss Hugh Orde confirmed at a press conference on Tuesday 8 March that £32 million would be set aside to fund the re-investigation of more than 2,000 killings from the conflict that remain unsolved.
Gerry Kelly, Sinn Féin's policing and justice spokesperson, said that "the real test of the British Government's commitment to addressing these issues is whether it opens up the files of Special Branch and British Intelligence, who were responsible for organising, arming, resourcing and directing unionist death squads in a state policy of political assassination and terror".
Mark Thompson, spokes-person for Relatives for Justice (RFJ) which represents the families of people killed by the crown forces, said that the Serious Crime Review Team set up to carry out the investigations "will not receive support from the hundreds of families affected by British state violence and state sponsored collusion with death squads".
Thompson said the British Government was "seeking to create a mechanism that is not independent, which it controls and which safeguards its own interests by preventing proper independent examination of the role of its forces and agents during the conflict".
The RFJ spokesperson added that Paul Murphy signalled the British Government's intentions when last week he "shelved the consultation into 'dealing with the past', thereby undermining the views of victims to bring about an independent truth recovery process and have a voice in determining the way forward".
Thompson stressed that "any process that examines the past must be independent, transparent, accountable and have public confidence and support. Clearly, this announcement does not constitute the criteria acceptable to hundreds of families affected by state and state-sponsored violence.
"Further, it does not fulfill the internationally accepted protocols associated with examining the past as part of a conflict resolution process. These are based on the simple principle that to honestly examine the past one must not be implicated in any of the actions being examined or hold a vested interest in the final outcome. Of course, everyone knows and accepts that the PSNI/RUC were involved and have an interest in the outcome. Officers involved in past abuses, particularly in Special Branch, simply transferred from the RUC into the PSNI and will ultimately have the final say in any internal process of 'investigation' — this is unacceptable".
Meanwhile, it has emerged that a new PSNI branch, C8, is to carry out the task of re-investigating the so-called cold cases.
C8, under the command of Dave Cox, a retired Metropolitan Police commander, will consist of up to 100 personnel and have the support of a dedicated Special Branch team and a dedicated forensic team from the Forensic Science Laboratory.