10 March 2005 Edition
Dublin & Monaghan bombings - Dublin Government may take British to Court
BY JOANNE CORCORAN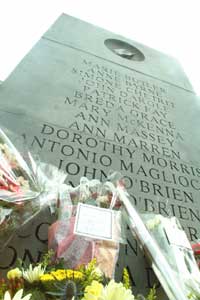 The Dublin Government has said that it may take the British Government to the European Court of Justice, if it maintains its refusal to co-operate with the Oireachtas Joint Committee dealing with the 1974 Dublin and Monaghan bombings.
The Committee has recommended that inquiries into the bombings be held in Britain and the Six Counties, a recommendation that will itself be legally challenged by Justice for the Forgotten, who want a full public inquiry in the 26 Counties, where the bombings took place.
Taoiseach Bertie Ahern made the statement in the Dáil on Tuesday, in response to a question from Sinn Féin TD Caoimhghín Ó Caoláin.
Ó Caoláin asked what further inquiries were being undertaken by Justice Barron (who investigated the Dublin and Monaghan bombings and submitted his report to the Joint Committee), and what action was being taken by the government on foot of reports already issued.
Ahern said that he had received a letter from Prime Minister Tony Blair in January, in which he claimed that his government had co-operated as much as it could with investigations in Dublin. The letter said that there was not enough evidence to justify a public inquiry into the matter in Britain and that it would not be possible to carry out another major search of documents in relation to other matters under investigation by the Committee.
The Taoiseach added that Barron expects to complete his reports on the 1975 Dundalk bombing and the 1976 Castleblaney bombing and other incidents, in April.
Upon hearing the Taoiseach's reply, Ó Caoláin asked Ahern if he agreed that the British response represented "a point blank refusal to co-operate with the calls of the Oireachtas Joint Committee".
Ó Caoláin also asked if the ongoing investigation into the Garda handling of the 1974 bombings would have its terms of reference widened to cover the Garda investigations into the Dublin bombings of 1972 and 1973, and the Crinnion, Wyman and Littlejohn cases, as recommended by the Joint Committee. He then inquired if the Government had considered taking Britain to the European Court of Justice.
Ahern answered; "If we do not make progress with the British government and if it does not move on these issues, which appears likely — we have not given up yet — we must decide on whether to go to the European Court of Justice. "We have not considered that option, but we will do so if we cannot get the type of investigation we want."
He added that extending the investigation into Garda handling of other incidents was being examined.
"It seems sensible to me but we have not formally made a decision," he said.