10 March 2005 Edition
"We're moving forward" - Adams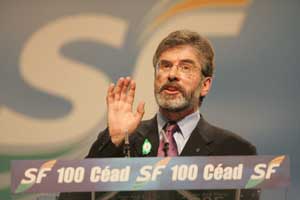 The 2005 Sinn Féin Ard Fheis, in which the party celebrated its 100th year, saw delegates reject recent attempts to criminalise the republican struggle and commit themselves to ensuring the success of the peace process.
It was a party conference that saw republicans confidently setting their sights outward rather than inward, focused on the goal of moving forward the process and achieving a United Ireland.
Among the massive attendance over the three days, there was a remarkable mixture of young and old, there was healthy debate and dissent as over 380 motions were decided on, and there was a palpable air of determination.
Referring to the Meath by-election this Friday and the forthcoming Westminster and local elections in the North, Martin McGuinness told the Ard Fheis that the way to ensure the success of the process is through increased political strength, "so each and every republican has a mighty task ahead in the coming months".
Gerry Adams emphasised that public support for the peace process would bring "our opponents back to the process" but he said progress "demands more than rhetoric from these other parties".
He best summed up the message when he assured delegates that Sinn Féin is up to the task of rebuilding the peace process, that turning back is not an option. "We're moving forward. We're moving forward to a better future," he said.