3 March 2005 Edition
Queens students challenge bigots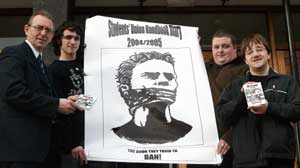 Students at Queen's University in Belfast finally have a bilingual handbook — but not without a fight.
It all began last year, when Patrick Hughes — a student at Queens — ran for the position of Students Union Vice-President.
During his campaign, Hughes stated that one of his objectives was to ensure the production of a handbook for the use of all Queens students — that would be printed in both English and Irish. His campaign was successful and he was elected to the post.
Hughes then put his proposal to the rest of the Student Council. They voted unanimously to accept it and began preparing the aforementioned document for publication. And that's when things turned ugly.
Enter DUP mouthpiece Nelson McCausland and others within that sector of unionist supremacy. McCausland was so offended by the suggestion of a bilingual handbook that he and those like him began to publicly voice their opposition in the local press.
Queens University bosses felt the pressure, and quickly stepped back in line. In spite of the unanimous decision of the Students Union, the University hierarchy condescendingly announced that they were against the idea and would therefore not pay for the handbook's publication.
Having withheld the required funds, Queens officials must have smugly assumed that would be the end of the matter. But students had other ideas.
They contacted Sinn Féin MLA Michael Ferguson — the party's Spokesperson on Employment and Learning. Ferguson immediately contacted three of the Vice-Chancellors at Queens to express his concern and anger, and arranged a face to face meeting with Vice Chancellor Gerry McCormick later that week.
"I met with Gerry McCormick and made the case that the university had buckled under pressure from the DUP," Ferguson told An Phoblacht. "I told them that they had undermined the integrity of the Students Union by denying funding for the publication."
"Gerry McCormick told me that Queens was worried the handbook could have an "adverse impact" on campus. He actually said he did not want Queens to become a 'cold house for unionists'.
"I pointed out that in previous years the handbook had included Ulster Scots, while excluding Irish completely, and that the University had not conveyed any concerns at that point.
"I also added that we were a far cry from a cold house for unionists when the only people to be attacked on campus have been Catholics."
Ferguson then presented McCormick with a copy of the European Charter on Minority Languages and reminded University officials in attendance of their responsibilities under the terms of the Good Friday Agreement.
"I told them they had a responsibility as a University to challenge the racism of parties like the DUP, and that anyone who said they felt threatened by the Irish language needed to ask themselves why. What is threatening about equality?
"Universities like Queens should be defending the European Charter."
"I also pointed out that Queens has a history of under-representing Catholics — in both their departments and senior staff — an issue which came to the fore in the '80s through Father Denis Faul.
"But even before that, back in the '70s, this was also a University that chose to ignore the importance of civil and democratic liberties at a time when university faculties across North America had made it a priority to defend civil rights."
In spite of the arguments and legislation Ferguson put forward, Queens bosses held firm and continued to refuse to fund the handbook.
"It is obvious that in some respects — even to this day — Queens University is an institution which is publicly not prepared to defend cultural rights and equality and face down fascist bullies like Nelson McCausland," says Ferguson. "While University bosses may not be up to the challenge of tackling inequality, Queens University students definitely are.
The Students Union, undeterred by the lack of institutional support, went to its membership and raised the funds to publish the bilingual handbook through donations from students.
And so, amid much celebration, on Wednesday 9 February, the bilingual 2004/'05 Queens Student handbook was unveiled on the steps of the Students Union.
Alas, Nelson McCausland and his colleagues were nowhere to be seen.