3 March 2005 Edition
We are up for the challenge - Gerry Adams addresses South Armagh commemoration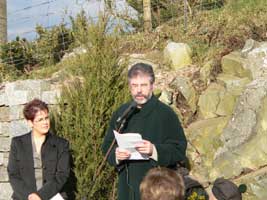 Sinn Féin President Gerry Adams was the main speaker at the commemoration for IRA Volunteers Brendan Burns and Brendan Moley last weekend, attended by over 2,000 people. He had special words of welcome for members of both Volunteers' families, whose strength and courage he said, then and in the difficult years since, had been an inspiration to all. The Sinn Féin MP for West Belfast also said that the event was a celebration of the lives and dedication and commitment of two sons of South Armagh to the goal of Irish freedom and independence.
"Sinn Féin does not underestimate the seriousness of the current situation. The process is in grave difficulties and just as all of us in political leadership must share responsibility for this crisis, we must also share the responsibility to create the conditions to put the process back on track."
The Sinn Féin President, who had 17 years earlier attended the funeral of Brendan Burns and who had what he described as the honour and privilege of giving the oration at Brendan Moley's funeral, stated: "Sinn Féin is totally and absolutely committed to bringing the peace process to a successful conclusion.
"We are also committed to bringing about Irish unity and independence and to representing all those who vote for us. And while we will not shirk in our responsibilities, we will not allow politicians, especially those who are glorying in the current difficulties, to criminalise those who support us or more importantly, to set the political agenda."
He said that Caoimhghín Ó Caoláin spoke for republicans the length and breadth of this island when he said in the Dáil the previous week that Sinn Féin is a party that rejects criminality of any kind and no republican worthy of the name can be involved in criminality.
He continued: "It is a truism that those who want the greatest change have to take the greatest risks. We have demonstrated our capacity for doing this time and time again. Inevitably, that will mean more hard choices, more hard decisions for Irish republicans as we push ahead with our political project and as we seek to achieve a united Ireland."
He assured all present that "we are up for the challenge today. We are determined to see all the guns taken out of Irish politics and to be part of the collective effort that will create the conditions where the IRA ceases to exist.
"We are determined that the issues of policing, demilitarisation, human rights and equality are dealt with," he said, but he pointed out that "republicans cannot make peace on our own. We cannot implement the Good Friday Agreement on our own. We cannot establish a working, viable power sharing government on our own. We cannot resolve the outstanding issues of equality and justice on our own. These require the British and Irish governments and the unionists to play their part and to face up to the challenge of making peace."