24 February 2005 Edition
Elected reps rearing to go
BY ROISIN DE ROSA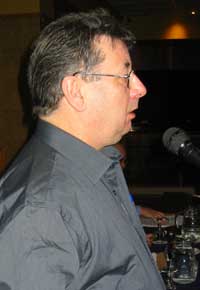 Like fish to water last weekend, a large number of Sinn Féin elected representatives gathered in Cavan from all across Ireland, from Cork, Belfast, Waterford, Wexford, Mayo, Derry and the border counties, to attend a meeting of the party's National Elected Representatives Forum (NERF).
The elected reps were eager to fight back following the tide of vitriol in the media and from political opponents this week. If anyone ever was foolish enough to doubt the truth that Sinn Féin loves adversity, here was the living disproof.
"Our publicity," as one rep said, "has always been person to person, talking to people at the doors, handing out newsletters and flysheets to ordinary people -- it is not media modulated. Increasingly, people at the doors see the media campaign for what it is -- a deliberate orchestrated campaign of vilification — based on lies and innuendo, with a different story each day, all aimed at the very party which has developed and driven the Peace Process and is a voice of the community that wants change in our society. People can see a carefully manipulated campaign against us. People are not fools."
The mood was articulated forcefully by party chairperson, Mitchel McLaughlin and by Martina Anderson in a pre-launch presentation of Sinn Féin's national campaign calling on the Dublin Government to develop its Green paper for re-unification of Ireland, which is to be launched on Friday next.
Mitchel addressed the meeting on the current situation. He spoke of how, during recent years, the strategy of our opponents has changed. From 11 different and failed initiatives to exclude Sinn Féin and secure an SDLP alliance with unionists, their strategy moved to try to incorporate and lock in Sinn Féin, to corral republicans within the institutions and their establishment agenda to maintain the status quo - and their hold on power.
"We shouldn't believe that their campaign of vilification over coming weeks and months is likely to evaporate," he said. "It is deliberately inspired and manipulated black propaganda, to take the establishment parties at least up through the coming four elections.
"On 8 December last year, the package collapsed. But it was a different event for the establishment than what it was for us. They looked for a settlement — we looked for a process of transition. The governments wanted us on the centre ground, committed to their agenda of preservation of the status quo. We were and are committed to the agenda of change.
"How do we deal with this?" he asked. "We don't own the press. We depend for our vote on the ordinary people who want to see change from the criminality and corruption at the highest levels of government - in an economy where money has been sloshing around most freely!
"So, we will come out stronger from this phase. The establishment parties who sought to corral Sinn Féin within their agenda have forgotten an important factor — that Sinn Féin is a party of idealism, of vision. We have to inspire a community on the doorsteps with a sense of that vision, and so strengthen the community that wants change. The Green Paper is one tool that gives voice to that vision for change, to build the demand in our communities for radical change to the status quo.
Chair of the NERF, Joe Reilly, took time off from campaigning in Meath to review the group's work to date and outline plans for the future.