24 February 2005 Edition
Growing frustration over special needs provision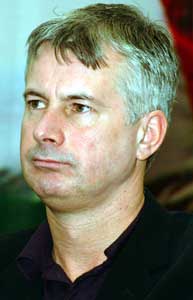 Speaking on the party's Private Members motion on Education for Special Needs in the Dáil this week, Sinn Féin spokesperson on Education Seán Crowe, while acknowledging the progress made in the area of special needs education, said there was "growing frustration and concern among parents, teachers and principals at the plans for future provision for those with special needs".
"There are three old chestnuts that keep coming up time and time again when talking to parents," he said. "This is the lack of and the inability to access psychological services, speech therapists and occupational therapists. The Minister must address the issues urgently. Let no one be under any doubt the situation is extremely serious."
Crowe was also highly critical of the proposed weighted system for the allocation of special needs, saying more than a third of the country's disadvantaged schools were set to lose teachers under the system.
"I want to reiterate that it would be scandalous for any school in a disadvantaged area to lose out under the new special needs allocation," he said.
"This motion is about real people. It is about families and children who often struggle against the odds. It is about people with disabilities who demand their right to education. It is about parents whose lives revolve totally around their children and the struggle to allow them to reach their full potential. All they ask is the proper supports and rights that the Government and the State has promised them repeatedly."