24 February 2005 Edition
Unionist paramilitaries attack Travellers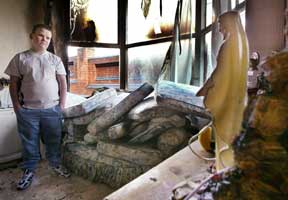 A mother whose South Belfast home was petrol bombed in the early hours on Monday 21 February by members of the UVF said she and her five children are lucky to be alive.
Julia McDonagh, a member of the Travelling Community, was asleep with her six-year-old son in her Tates Avenue home, in the loyalist Village area, when a petrol bomb was thrown through the downstairs bedroom window where she lay. Her other children were in an adjoining room at the time but managed to escape before the blaze took hold, causing major damage to the front bedroom.
This latest attack on the family came just days after a number of windows were smashed, while on Friday night 18 February, McDonagh's son James was attacked by a gang of men. He has since gone to live with his aunt.
McDonagh said she has been living in Tates Avenue for six months but she will now have to move as a result of this latest sectarian attack.
"The PSNI are saying that this attack wasn't sectarian but I believe it was. This is a mixed area but some people have shouted things like 'Taigs Out' at us. The people who carried out this attack attempted to kill us."
South Belfast Sinn Féin Assembly member Alex Maskey said the area where the McDonaghs live has a history of sectarian attacks.
"Firstly, Catholics were intimidated out of this area, then students and ethnic minorities. I don't know if this family were targeted because they are Catholics or Travellers, but there is no justification for it."
Meanwhile, Antrim Councillor Martin Meehan has described as "disgusting" remarks made by Ulster Unionist Councillor Adrian Watson about Travellers.
Watson escaped censure in January after he called a group of Travellers staying on a temporary site "scumbags" and the "scum of the earth" at a council meeting.
He could now face legal action but he still refuses to withdraw the remarks saying as far as he was concerned the people he witnessed were scumbags.
"These disgraceful remarks would be more at place at a Ku Klux Klan meeting," said Meehan, who has called for Watson to immediately resign his council seat.