24 February 2005 Edition
Murphy has no right to discriminate against Sinn Féin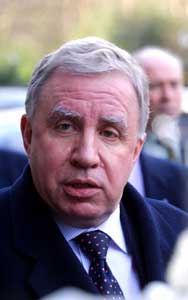 Sinn Féin South Belfast MLA Alex Maskey speaking from London on Tuesday following the decision of the British Government to extend sanctions on his party by denying Stormont Assembly allowances for a further 12 months, said that "Paul Murphy has no right to discriminate against democratically elected Irish politicians". Maskey also questioned the claims of the 26-County Government to be opposed to sanctions.
"Paul Murphy does not have one vote in Ireland. He has no right to discriminate against democratically elected Irish politicians. These actions are a distortion of democracy," said Maskey. "The people of Ireland elect us and we are accountable to them. We reject these anti-democratic actions by a British Government against an Irish political party.
"We will continue to fight this discrimination politically, legally and through an ongoing campaign of democratic resistance. We will go to the nationalist and republican people in elections in May.
"The IMC, upon whose report this action is based, is not independent. It has no credibility. It is the tool of the securocrats, whose stated aim is to prevent the further growth of Sinn Féin and the further development of the Peace Process. Sinn Féin predicted exactly the scenario we see being played out now when this body was first established at the behest of the UUP.
"The Irish Government claim to be opposed to sanctions. What are they going to do about it? If they are co-equal partners with the British in the management of this process, are they prepared to block these sanctions?
"The British Govern-ment has no right to act unilaterally if this is a partnership arrangement. More importantly, the Irish Government has a duty to defend the rights of Irish people and their political representatives. Will they do so? Will they stand up to the British Government? Either the Irish Government are co-equal partners or they are not."