24 February 2005 Edition
Long Kesh to be an 'international conflict transformation zone'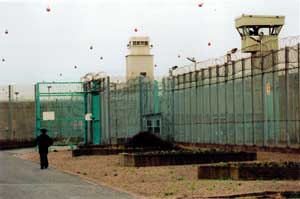 Sinn Féin Lagan Valley representative Councillor Paul Butler has welcomed reports that significant parts of Long Kesh Prison will be developed as a part of an international conflict transformation zone within the development of the site.
"It is important that the historic value of the Long Kesh prison is maintained and developed," said Butler. "Long Kesh played a vital role in the transformation of the politics of conflict in Ireland.
"Events in Long Kesh have helped shape the recognition and understanding of the political nature of the conflict here. The international conflict transformation zone should act as a beacon of hope to all communities and societies emerging from political conflict and support the process of conflict resolution both nationally and internationally.
"There has been good work done by the panel in developing an agreed report that makes the development of the conflict transformation zone an integral part of the overall development plans for the site.
"However, we are still a long way from securing the end product. We still need to see the detail about how the development will be resourced and we need to see ongoing political will from all sides to see this development through to completion."