24 February 2005 Edition
Sinn Féin will weather this storm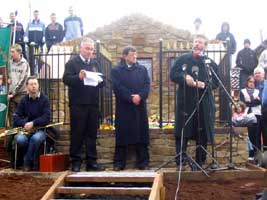 Speaking at a commemoration marking the 20th anniversary of the killing of IRA Volunteers Charlie Breslin, Michael Devine and David Devine by the SAS, Gerry Adams had hard words for those attacking Sinn Féin and vowed that the party would fight this latest criminalisation slur and steadfastly pursue the Peace Process.
"Many of those who are attacking us now are back in the place where they are most comfortable," he said. "They don't want an open debate on the national question; they don't want a focus on their management of the social and economic affairs of this island; they don't want the Peace Process to succeed if that means the loss of political power for them. At all costs, they want to stop the growth of Sinn Féin and halt the radical political alternative to the forces of conservatism in Ireland. And in order to achieve this and to distract attention from all other matters, they are trying once again to smear republicans with the criminalisation slur.
"Sinn Féin does not underestimate the seriousness of the current situation. People across Ireland are concerned that the Peace Process appears to be in freefall and that ten years of work and progress is now being cast aside. My friends, it is not enough for us to cry foul or to invoke the memory of the Hunger Strikers.
"No republican worthy of the name can be involved in criminality of any kind. If any are they should be expelled from our ranks. We are not involved in criminality and we will not tolerate such behaviour. Our opponents know that. But some of them can barely disguise their glee at the recent turn of events. There has been trial by media.
"A Sinn Féin member is arrested and released without charge and the entire Sinn Féin party is condemned as criminal. Money from the Northern Bank robbery is found in the RUC Athletic Association Club in Belfast and this is reported as being an effort to embarrass British forces. All of this stated as fact. And let there be no doubt that this campaign of vilification is going to continue for some time.
"But let there also be no doubt that Sinn Féin will weather this storm. Do they think we are not serious about our republicanism? Do they think we are not determined to pursue our legitimate goals? Do they believe our commitment to the Peace Process is a pretence?
"Of course, if we were criminals as they allege, their strategy would work.
But we are not. And we have come too far, and too many people depend upon us. Let me tell you that Sinn Féin will continue, in the hundredth year of our party, to build political support and a dynamic radical political organisation across this island.
"The importance of the upcoming elections here cannot be overstressed. Others are already electioneering. The contest will be Sinn Féin versus the rest. So our effort has to be, in every single contest, to ensure the largest Sinn Féin vote possible.
"Twenty years ago, when Michael and David and Charlie were killed, Sinn Féin was in the very early process of fighting elections and beginning the difficult work of building a political party. Today we are the largest pro-Agreement party in the north and third largest party on this island, with elected representatives throughout Ireland. None of this was supposed to happen. The governments thought that Sinn Féin would remain a minor player on the political scene but they were wrong.
"Their mistake was in underestimating nationalist and republican people and they are doing that again.
"And what of the IRA?
"Let me restate here at the memorial to these IRA Volunteers that the objective of all republicans must be to create the conditions in which the IRA ceases to be. That is a huge challenge for republicans. Others at this time think they can beat the IRA by the avalanche of propaganda, which is being spewed out.
"Sinn Féin's contribution to the Peace Process has been dismissed and abused, including our efforts to take all the guns and all the armed groups out of Irish politics. That remains the Sinn Féin leadership's objective.
"Many of those who are attacking us at this time have made no useful contribution to the peace process, but some have. If, as I believe, they intend to continue with the politics of smear, they have a duty to spell out how this will contribute to rebuilding the process in the time ahead."