27 January 2005 Edition
Sinn Féin MEPs to bring Finucane case to Europe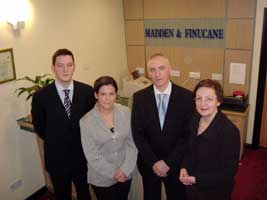 Sinn Féin MEP for Dublin Mary Lou McDonald on Wednesday afternoon delivered a speech in the European Parliament on the case of murdered Belfast solicitor Pat Finucane. The Dublin MEP said that she was following up on commitments made to the Finucane family last week, that Sinn Féin would raise the issue in the European Parliament.
"Sinn Féin will be raising the Finucane case with the European Council, Commission, and Parliament in the near future. However today, I wanted to take this opportunity to initially raise the matter and put the British Government on notice that it cannot hide the truth from either the Finucane family or the European Parliament for much longer," said the Dublin MEP.
McDonald and her colleague, Bairbre de Brún MEP, met with members of the Finucane family on Friday last, at which they vowed to raise the killing of Pat Finucane in the European Parliament.
The MEPs met with the human rights lawyer's widow Geraldine, son John and brother Martin at the offices of Madden and Finucane solicitors in Belfast and promised to explore ways of bringing the 1989 killing to the attention of the Parliament.
In April last year, Canadian judge Peter Cory recommended that the British Government set up public inquiries into the cases of human rights lawyers Pat Finucane and Rosemary Nelson, Portadown nationalist Robert Hamill as well as the death of loyalist killer Billy Wright.
However, the British undertook to carry out inquiries into three of the killings, stalling on the Finucane inquiry until after the trial of loyalist Ken Barrett.
Convicted
Barrett was convicted of killing Pat Finucane in September 2004 and in November, the British announced an inquiry into the circumstances surrounding Finucane's killing.
As the British proposed to hold some of the inquiry behind closed doors and withhold vital documents on the grounds of 'national security', the Finucane family said they would not cooperate with it and are continuing their campaign for a fully independent, public inquiry into the killing.
Speaking after the meeting, de Brún said it was not surprising that the British Government is still resisting a full public inquiry into the killing.
"After all, the policy of employing loyalist death squads was endorsed at the highest political level," she said. "Successive British governments' have never accepted responsibility for the deaths that resulted from this policy. The Finucane family, and hundreds like them, require closure. Instead, they have been met with walls of silence, denials and cover-ups for many years.
"We intend to bring international pressure to bear on the British Government to hold a full independent inquiry into his death."