27 January 2005 Edition
Speller pressed to end SF Housing Executive exclusion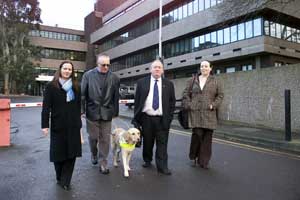 A Sinn Féin delegation led by Housing Spokesperson Councillor Fra McCann MLA and North Belfast MLA Kathy Stanton met with British direct rule minister John Speller this week to raise a number of concerns about housing, including the ongoing exclusion of Sinn Féin representatives from the Housing Executive. They also raised the impact of the Belfast Metropolitan Area Plan (BMAP) in failing to address the housing crisis in North and West Belfast.
"It is unacceptable that in its' entire history that there has never been a single Sinn Féin representative on the Housing Executive board," said Fra McCann afterwards. "Nationalists deserve effective representation. Sinn Féin represent the majority of nationalists, particularly in areas where there are severe housing problems.
"Sinn Féin representation is the only way to ensure that pressing housing issues such as the overhaul of housing waiting list points allocation process, the ever increasing gap between need and provision of social housing, the imbalance in the waiting lists and anti-social tenants are prioritised. The policy of exclusion must be ended.
"The failure to deliver a adequate supply of social housing means that there is a failure to allocate housing on the basis of need and thousands of people are left waiting for unacceptable lengths of time before being allocated decent housing. There needs to be a radical overhaul of not just housing policy but also the policy direction of organisations such as the Housing Executive."