27 January 2005 Edition
There is power in a union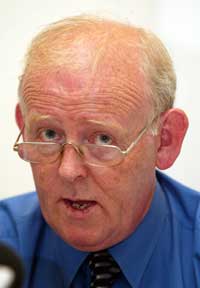 In March of this year SIPTU established the union's first Organisation and Recruitment unit and have since expanded it to a staff of nine with an annual budget of over a million Euros. An Phoblacht's JUSTIN MORAN spoke to Noel Dowling, head of the unit, about declining union numbers and the efforts being made to turn the tide.
The last ten years have seen a steady decline in the proportion of the Irish workforce that carries a union card. From 1990, when 60% of workers were members of trade unions, the number has plummeted to 37%, and to about a quarter of private sector workers.
While the actual number of people in unions has increased, the proportion, or union depth, within the workforce is in freefall. This decline has mirrored an increasing rightward trend in Irish politics towards privatisation and the break up of State companies.
The beginnings of a union fightback might be discernable in Liberty Hall, however, much to the surprise of SIPTU's critics on the left, where Noel Dowling, formerly the union's National Industrial Secretary, is in charge of a newly formed group of seven union organisers.
Since the establishment of the unit it has gone about recruiting new members for SIPTU in a targeted and strategic fashion and has already recruited an extra thousand members in Dublin alone by organising in the home help sector.
Dowling clearly feels that as welcome as this unit is, it's also long overdue and doesn't underestimate the scale of the challenge.
"The decline in union depth has happened for a range of reasons," said Dowling. "We have seen a dramatic increase in employment since the late 80s but this has been coupled with a decline in the manufacturing sector, traditionally a highly unionised section of the workforce.
"I think there is also a far greater level of hostility to unions and unionisation among sections of the private sector, some of whom have been inspired by the success of multinational companies in avoiding unions, and elements of the conservative media."
But Dowling is also willing to admit that a portion of the responsibility rests with the union leadership. "I don't want to be pointing the finger of blame at everyone else for our trouble," he acknowledges. "Trade unions have done nothing to counteract this. Up until the end of the '80s, members came to us and I suppose we didn't see the need to be proactively in the field organising day after day.
"But doing so is hardly a new thing. When Connolly and Larkin arrived here they didn't have a suite on the 15th floor of Liberty Hall. We should have been doing this a long time ago and not taking it for granted that everyone would automatically see the value of joining a union."
Builders and home helps
Critics of the union hierarchy on the left have pointed to the social partnership process as part of the explanation for the decline in numbers, arguing that unions are now policing their own members in the interests of the Government of the day. While Dowling is willing to admit that the era of national pay deals has meant that many issues are being agreed at a national level, removed from the daily lives of union members, he sticks to the SIPTU line that partnership has overall been good for the economy.
Since its inception the unit has zeroed in on two specific sections of the workforce it believes is ripe for further organisation. The construction industry and home helps are both areas where SIPTU already has a significant presence and where the number of people employed there is growing rapidly.
"The home helps in Dublin are employed by 39 different voluntary boards of management and the nature of their work means that there's not one single workplace where they can be organised," said Dowling. "We began by trying to identify workers through advertisements in the newspapers, contacting health board staff and so on. Once we got their contacts we invited people to meetings in Liberty Hall."
An essential part of the membership drive was taking the meetings outside of Dublin city centre. "We realised that it was increasingly difficult for people to get into town from all parts of the city so we held about 40 meetings in local areas like Clontarf, Swords, Finglas and Blanchardstown and saw real improvements in the numbers of people attending," said Dowling. "Once we signed those people up we went back again to hold another series of meetings to elect shop stewards and representatives to a regional committee.
"Political education is the next step for these members. We need to get away from the notion that a trade union is something you pay your weekly money into and get a service in return. It's an organisation of workers, and political education and training for Shop Stewards on how to handle grievances and the like are essential."
The unit is currently analysing other sectors, with a particular eye on the health and tourism industries, for further recruitment. While it is well funded by the standards of other unions and political organisations the work is very labour intensive. On the wall in Dowling's office is a board covered with local area meetings scheduled one after the other across the city and county.
More dubious methods of recruitment however, such as SIPTU's notorious no-strike deal with Connex for LUAS drivers, are unlikely to be a regular feature on the agenda, though Dowling defends its use in this circumstance, accusing critics of failing to offer an alternative and pointing to successful deals on overtime as an example of what can be delivered under the contract.
Yet it is difficult to defend a deal with management to exclude other unions by obliging workers to fight with both hands tied behind their backs.
Experiences elsewhere
One of the most impressive features of SIPTU's new organisers is the research put in to similar work that has taken place elsewhere. Union leaders and recruiters in Britain, Australia and the United States provided an invaluable source of advice and assistance to SIPTU, especially in tactics to counter unionbusting law firms and anti-union tactics in the workplace.
A great deal of thought has also gone into trying to build broad alliances in local areas with community groups. Dowling is enthusiastic about unions working in greater partnership with the community and voluntary sector at a grassroots campaigning level.
Building such links will be essential if unions are to appeal to the immigrant community, who make up a new, and increasing, constituency in the Irish workforce. Dowling acknowledges the difficulties. "It's not easy. There are communication and language difficulties to start with, as well as cultural differences. The situation with work permits for immigrants continues to allow widespread abuse of workers by unscrupulous employers and we are continually raising that matter with the Government.
"We have done a great deal of practical work with some of the embassies and took out a large number of newspaper advertisements in the accession counties when they joined the EU to raise awareness of the Trade Union Movement in Ireland. As the immigrant community continues to organise itself we hope to deepen our links but we are already active on a number of worker's rights issues involving immigrant workers and have had some significant successes."
What is needed
The decline, both in terms of numbers and activism, in union membership over the last ten years has been a worrying development for left forces in Ireland. While the kind of co-ordinated and strategic approach to recruitment that SIPTU is embarking on is to be enthusiastically welcomed and is already paying dividends, the radicalisation of the Irish trade union movement is also essential. The continued support of organised labour for social partnership, and for neo-liberalism in Europe, threatens to undermine the undoubted benefits that local organising and aggressive recruiting can bring.
An Phoblacht Magazine
AN PHOBLACHT MAGAZINE:
Don't miss your chance to get the second edition of the 2019 magazine, published to coincide with Easter Week
This special edition which focuses on Irish Unity, features articles by Pearse Doherty, Dr Thomas Paul and Martina Anderson.
Pearse sets out the argument for an United Ireland Economy whilst Pat Sheehan makes the case for a universally free all-island health service.
Other articles include, 'Ceist teanga in Éirinn Aontaithe', 'Getting to a new Ireland' and 'Ireland 1918-22: The people's revolution'.