6 January 2005 Edition
Death of Patrick (Paddy Doc) Doherty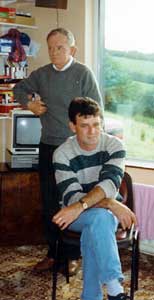 It was with great sadness and regret that we learnt of the death of one of our comrades, Patrick, (Paddy Doc) Doherty. His passing saddens all of us who knew him yet we are honoured to have known such a fine, quiet and considerate comrade.
Paddy Doc, as he was known to his friends, died after being in a coma for a number of months. This was a very difficult time for his family, whose strength, love, care and commitment during this period was an inspiration to us all.
Doc came from a republican family and as such saw his fair share of house raids, harassment and imprisonment. Spurred by these events, Doc and a number of his friends, including his brother Bernard, joined the 26-County Army in order to get military training but events on the streets of the North and in particular the streets of Derry on Bloody Sunday changed his life forever. On hearing of the events in Derry, Doc and his comrades left their base at Athlone and started the long walk home to Derry to join the struggle. Tragically, less than four months later, one of these young men was to die on active service for the IRA, Volunteer John Starrs, a lifelong friend and comrade of Doc.
Despite these sad events, Doc never shirked the burden of responsibility that was thrust upon him and in his quiet unassuming way showed leadership qualities far beyond his young age. Ultimately at that time, like all republicans, the price of the struggle was either death or imprisonment. Doc was no exception and was imprisoned for ten years. It was there that most of us got to know Doc. Incarceration as a political prisoner brings out qualities that for most of us we didn't even know we had. It forms a bond that will last a lifetime, and should we never see one another from one year to the next, we know that we have another 'family' that is willing to help us during low periods in our lives. Doc was no exception; he was always willing to lend a hand, do a comrade a favour, always there when he was needed, and as they say in Derry, "he'd give you the shirt off his back!"
Doc suffered many personal tragedies, such as the sudden death of his mother Lily, (whilst he was still in prison), and more recently the death of his father, Hugh. But Doc suffered the most painful tragedy of all with the death of his young son Barry, aged just three. Bearing all these with quiet dignity and strength, such was his character never losing his care, compassion and empathy for others.
All of us who knew Doc, who were on active service with him, who broke bread with him in prison, who met him socially, could not but be impressed with his quiet strength, such was the turnout at his funeral. Comrades from over 30 years ago gathered at his graveside to pay their last respects and all of us there knew that there were hundreds of other comrades, ex-prisoners from all over the country who couldn't be there, but we know that they were there in spirit.
To the real 'Quiet Man', we salute you, we'll miss you, but most of all we are honoured to have met you.
Nuair a shíleas mo dhaoine gur inár luighe bímís
Ar do thúmba bímís sínte ó oidhche go maidín
Bímís ag osnaighil go brúighte 's ag cruadh - ghol go daingean
Fán ár mbuachaill óg uaibhreach
A luaidheadh linn 'nár leanbh.
To his son Patrick, his brothers Hugo, Bernard and Michael his sisters Bernadette, Marie and Dora, his partner Dympna and the entire family circle we offer our sincere and heartfelt condolences.
BY CATHAL Mac MENAMIN