6 January 2005 Edition
So long Jarvis, hello Vinci?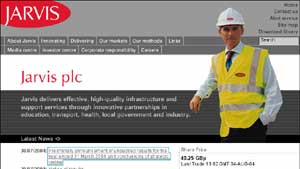 It might be a case of third time lucky for Jarvis, the failing Private Finance Initiative specialist, but at what cost? The company, which last week announced interim losses for the first nine months of 2004 totalling £283 million, has spent the last few weeks speedily selling remaining assets to avoid financial collapse, while all but two of its 21 current building projects have missed completion deadlines.
Alan Lovell, the company chief executive who only took up his post in October, has had a busy December, having set himself Christmas as a deadline for the third attempt to stop the company from falling into receivership.
The Jarvis crisis has an important Irish dimension, as the Department of Education has contracted Jarvis to build five primary schools here, costing €283 million, and the promised €60 million Cork School of Music.
The contracts were awarded against a backdrop where Jarvis' record in Britain was one of missed deadlines, unpaid suppliers and train crashes on rail network lines maintained by the firm. The combination of all these issues cast serious doubts on the ability of Jarvis to manage and complete contracts on time. Yet despite this, Jarvis was still considered as competent to run public private partnership contracts in Ireland.
In order to hold off creditors, Lovell has sold part of the company's property portfolio for £25 million, its European roads business for £24.5 million and on Christmas Eve agreed terms with Spanish company Amey to sell out the Jarvis share in Tubelines, the consortium that has the contract to run and renovate the London Underground. Jarvis will receive £146.8 million for its shareholding. £50 million will be used to complete work on nine of its outstanding 14 PFI construction contracts in Britain. At present, work has stopped on the 14 sites. Four of the remaining sites are to be taken over by a French contractor, Vinci.
It seems that Jarvis is getting out of building construction, preferring to expand its road, rail and plant business, yet despite this slimming down and refocusing of operations, it was still the successful bidder for the Cork School of Music.
Now Jarvis is proposing to sell its PFI division completely. French company Vinci was set to take up many of these contracts, including the proposed Cork School of Music. Vinci pulled out of the deal after Jarvis lost a school contract from the British Norfolk educational authority. Now a German firm, Hochtief, is set to buy out the Jarvis contracts.
So, despite signing terms with Jarvis, the Department of Education will have to do it all again with Vinci or Hochtief; who knows?
Vinci, with €252 million profits for the first six months of 2004, is the type of company that Jarvis aspires to be. Vinci is involved in construction of schools, roads, tunnels, as well as running toll bridges, building and maintaining social housing schemes and trams in Bordeaux, refurbishing incinerators and developing sites for building a digital communication network for the French police. Its contracts are spread across Europe and on to states such as Qatar and Australia.
Vinci was even involved in the refurbishment of the European Parliament. With such a track record and a government with an appetite for more public private partnerships, it seems we expect to see a lot more of Vinci.
Hochtief recorded after tax profits in 2003 of €77 million. Like Vinci, it has a large series of interests including airports, rebuilding football stadiums, school buildings, motorways, tunnels, train lines etc.
Next week, an EGM of Jarvis shareholdings will approve the sell offs and in Ireland we will probably see a lot less of Jarvis, unless of course they end up building the M3 Tara despoiling motorway.