6 January 2005 Edition
New national newspaper launches in February - Daily Ireland will be unashamedly pro-United Ireland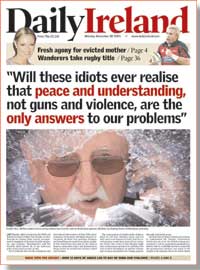 Former Sinn Féin councillor Máirtín Ó Muilleoir, now managing director of the Andersonstown News Group, is gearing up for the launch of new national newspaper, Daily Ireland, from the start of next month. We asked him about the project and the prospects for the new paper.
Why do you believe the time is right for the new daily?
This is a time of great change in Ireland, socially, economically, culturally and politically, but those changes are reflected everywhere except in the print media. There are pivotal times in all our lives and this, most certainly, is one. The opportunity now exists to create a truly pro-United Ireland, top quality daily newspaper, which is committed to telling the whole story. In business, you often find a product searching for a market but in this case, we have a market crying out for this product.
What do the promoters bring to the new project?
The Andersonstown News Group is the fastest-growing newspaper group in Ireland. We're passionate about all our newspapers and are confident that our belief in providing a first-class news service, while building up the communities we serve, will be the key to our success. Over the past seven years, we've launched a host of new titles from our Belfast base, built new offices and commissioned a full-colour printing press. From just 13 employees and one title seven years ago, we now have five titles and a staff of 60 and are the only newspaper in Ireland to boast the Investor in People and Excellence Through People accreditations. We've also managed to widen our net to bring onto our team top business people, including former GAA President and financial advisor Peter Quinn, who bring to the project a depth of knowledge and experience which is second-to-none.
The Andersonstown News Group also enjoys productive links with a number of newspapers in the US and we're very pleased that former Chicago Tribune Editor Howard Tyner, who was in Belfast before Christmas, has been able to act as a special consultant to the project.
Will you cover the entire country?
Daily Ireland will be available across the country from its launch on St Brigid's Day, 1 February. We're rolling out an innovative subscription model whereby readers can order the paper from us and pay through their bank account. We will ensure the paper goes to the shop or newsagent of their choice every morning. However, our focus initially will be on Dublin, the Border Counties and the Six Counties. They are the areas we intend to cover particularly well, but our intention is to be a truly national read. The one thing we do promise is that we'll be different from our rivals, different in having a genuinely national focus, different in our campaigning edge, different in how we view the news agenda.
Will readers recognise the writers in Daily Ireland?
We'll have a mix of household names and new faces. We intend to provide a platform for columnists and writers who aren't afraid of telling it like it is. Our readers will expect to hear voices they aren't exposed to in the other media but they will also expect to be challenged. Under Editor Maria McCourt, our news team is the sharpest in the country and will serve up the very best in scoops, news and sports. We plan to be fiercely independent while plotting a strongly nationalist editorial course untravelled by any other Irish daily.
Your plans have sparked opposition from many different quarters.
The UUP MP for North Down has launched a bitter campaign to stop the new paper in its tracks because she doesn't like its politics. To date, her efforts have led to funding difficulties for our sister title, the daily Irish language newspaper Lá. In many ways, she's pressing on an open door when she demands funding be denied projects in West Belfast. But this is 2005, not 1985 or even 1690, and discrimination on political grounds will be challenged and overcome. Ultimately, many people are afraid of Daily Ireland because it will be a vehicle for driving change, for exposing hypocrisy, for telling the whole story and not just the parts that suit the powers-that-be. More and more people in Ireland understand that they have the power to create and support their own media - they don't have to put up with much of what passes for news any longer — and it's that growing realisation, that growing empowerment, which will underpin the success of Daily Ireland.
• To subscribe to Daily Ireland or for more information, contact Máirtín Ó Muilleoir, Andersonstown News Group, Teach Basil, 2 Hannahstown Hill, Belfast BT17 OLT. [email protected]
An Phoblacht Magazine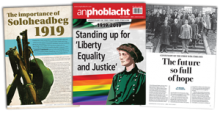 AN PHOBLACHT MAGAZINE:
Don't miss your chance to get the first edition of 2019 published to coincide with the 100th anniversary of An Chéad Dáil and Soloheadbeg.
In this edition Gerry Adams sets out the case for active abstentionism, Mícheál Mac Donncha takes us back to January 21st 1919, that fateful day after which here was no going back and Aengus Ó Snodaigh gives an account of the IRA attack carried out on the same day of the First Dáil, something that was to have a profound effect on the course of Irish history.
There are also articles about the aftermath of the 8th amendment campaign, the Rise of the Right and the civil rights movement.