6 January 2005 Edition
Basque Parliament approves referendum proposal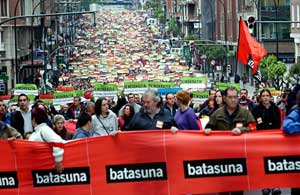 On 30 December, three MPs from the Basque pro-independence party Batasuna helped push through the Basque Parliament a proposal by Basque conservative nationalists PNV and EA to allow for a referendum on greater political autonomy in all the provinces of the Basque Country — including those within the Spanish State and those ruled by France. However, the other three of the pro-independence party's six MPs voted against the proposal, to express opposition to a plan they feel does not go far enough, as the document does not aim for independence and the end of partition for the Basque Country.
From the outset, Batasuna had expressed its opposition to the proposal presented by the Basque Prime Minister Juan Jose Ibarretxe in September 2002, as this is aimed at extracting further devolution from the Spanish state, while falling short of achieving independence for the Basque Country. That is the reason why Batasuna presented its own peace proposal in November, as an alternative to Ibarretxe's but also to encourage further political debate among Basque citizens.
Ibarretxe's proposal recognises the division of the Basque nation between two states — Spain and France — and asserts the right of the Basques to decide their own future and the implementation of that right through a referendum to be held among all Basque regions and the freedom of Basques to decide on their policies and relationships with other states and among themselves.
The proposal also includes the devolution of justice — with the Basque High Court becoming the top judicial power for the Basque Autonomous Community, and policing. However, Ibarretxe insisted his plan does not defy the rule of the Spanish constitution and of the Spanish Constitutional Court.
Batasuna's spokesperson in the Basque Parliament, Arnaldo Otegi, explained the party's decision to split its six votes in the Basque parliament for and against the plan. He pointed out that they support three aspects of the plan: the recognition of the Basque Country as a territorial unity despite partition; the inclusion in the proposal of a referendum in the whole Basque Country, which Batasuna considers a step towards self-determination; and the possibility to hold negotiations to decide the wording of the referendum proposal to be put to the Basque people.
On the other hand, the three votes against the Basque conservative proposal were to express Batasuna's opposition to the very limited scope of the plan. It only aims to achieve devolution of judicial and policing powers, said Otegi, but it does not deal with the wish for independence of an important sector of Basque society and so fails to resolve the conflict and might create false hopes for the Basque people.