16 December 2004 Edition
DUP must talk to Sinn Féin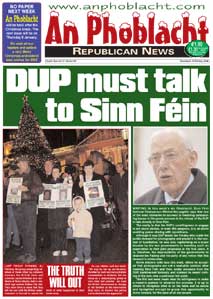 Writing in this week's An Phoblacht, Sinn Féin National Chairperson Mitchel McLaughlin says that one of the main obstacles to success in resolving outstanding issues in the peace process is the refusal of the DUP to talk directly to Sinn Féin.
The reality is that the DUP's unwillingness to engage is not about photos, or even IRA weapons. It is all about avoiding power-sharing with republicans.
Although it was DUP leader Ian Paisley who made the public demand for photographs and placed it in the context of humiliation, he was only capitalising on a major blunder by the two governments in inserting such an expectation in their joint proposals in the first place. It is, therefore, the responsibility of the governments to disavow Ian Paisley and his party of any notion that this demand is achievable.
Bertie Ahern's volte face this week, where he accepted that photographs are not a workable solution after meeting Sinn Féin and then, under pressure from the DUP, backtracked furiously and claimed he meant nothing of the sort, was a particular low point.
The IRA last week made clear its willingness to make a massive gesture to advance the process. It is up to others to recognise what is on the table and be astute and farsighted enough to grasp this opportunity to move forward, for the sake of all our people.