9 December 2004 Edition
European Parliament pledges examination of British state collusion
BY ÁINE Ní BHRIAIN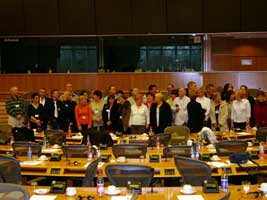 A delegation of more than 50 relatives of those killed by collusion between the British state and unionist paramilitaries travelled to the European Parliament in Brussels this week to address assembled MEPs.
The families, under the auspices of the realtives group An Fhírinne, had been invited to attend the hearing by the European United Left/Nordic Green Left group (EUL/NGL), of which Sinn Féin is a member.
Prior to the arrival of the An Fhírinne delegation, DUP MEP Jim Allister led a demonstration outside Parliament buildings alongside fellow MEPs from both the Conservative and UK Independence parties, during which they held aloft posters of members of the crown forces killed over the last four decades.
Parliamentary staff later told Sinn Féin that the highly insensitive stunt was the first time in the history of the EU Parliament that a protest had been held outside one of their hearings.
Meanwhile, Sinn Féin MEP Bairbre de Brún was on hand to greet the families and introduce them to the assembled dignitaries.
"I am pleased to welcome those most affected by the policy of British state collusion with unionist death squads," said de Brún. "Today's hearing will provide them with an opportunity to have their voices heard."
The families arrived with placards bearing the names and faces of their loved ones, but were unable to bring the posters into the chamber due to European Parliament regulations.
This, however, did not deter them from stunning European representatives with their harrowing stories of personal loss - the result of politically motivated killings by a recognised EU Member State.
Several relatives courageously recounted the intimate details of how their loved ones died to a "shocked and concerned" audience of MEPs from throughout the European Union.
Among those who addressed the gathering was An Fhírinne spokesperson Jim Clinton, whose wife Theresa was shot and killed in her home by the UDA in April of 1994.
"We had been warned by the RUC that our lives were in danger as a result of information passed on to loyalists via British Army collusion," said Clinton.
"I was at home with my wife and two daughters when our home was attacked. They shot my wife 23 times. I saw an RUC car pull up outside our door. It did not pursue the car that had attacked my home."
Other speakers included Mark Sykes, who was himself shot several times when the UVF attacked the Sean Graham bookmakers on the Ormeau Road in 1992. The attack killed five people and left several more injured. Sykes' wife, who lost her brother in the same attack, also spoke movingly about the aftermath of the attack.
Reaction
As a result of these testimonies, alarmed MEPs pledged to investigate the possibility of sending a cross-party delegation on a fact-finding mission to the Six Counties, to examine the specific issue of collusion.
Session chairperson Francis Wurtz, President of the European United Left/Nordic Green Left, said his party had noted, "with relief and hope", the various stages of the peace process and that they had followed developments "attentively".
"I would remind you," Wurtz told his assembled colleagues, "that a Canadian judge, charged by the UK government to carry out an investigation into certain cases, recommended the organisation of a public inquiry.
"I want to say that we are in full solidarity with all the victims of this murderous conflict.
"Experiences from all over the world confirm it; peace can only be built on the recognition of truth. I hope today's initiative contributes a stone to its construction."
Cypriot MEP Kyriacos Triantaphyllides added that his fellow countrymen and women knew "what it is to suffer under British rule".
"I want to express my wholehearted solidarity with the people of Ireland," said Triantaphyllides. "We know what it is like to live under British rule, and I would be prepared to take part in any function that would be of any help to the people of Ireland."
Campaign making progress
After the Parliamentary session, An Fhírinne spokesperson Robert McClenaghan - whose grandfather Philip Garry was killed in the loyalist bombing of McGurk's pub in 1971 - told An Phoblacht that the campaign for the truth about collusion has "really kicked in over the last two or three years.
"Personally, what I think made the group was our trip to London," says McLenaghan, "We had around 70 relatives on that trip, and most had been fighting a lonely battle for many years.
"They had always felt as if they were all alone, but all of a sudden they found themselves surrounded by other relatives who had suffered a similar loss. They began to feel empowered instead of isolated, and realised 'we're not alone. If we keep together we can achieve our objectives'.
"So for us this trip to Brussels is part of a journey, and the journey is simple - it's about the truth. We've gone to the Assembly, Leinster House, Westminister and MI5, even to Washington DC, and this is simply the next stage of that journey."
Determined
McClenaghan says the families have not been deterred by the silence and inaction of the British state on the issue, and adds that this has only made the group even more determined.
"We went to the European Parliament to ask for help, to put pressure on the British Government to find the truth," says McLenaghan, "Until we get it our journey will continue. We don't care for how long or how far we have to go.
"We may be led up cul-de-sacs, diverted by truth and reconciliation commissions or whatever, but our focus as a campaigning group is very clear and precise - we want the British Government to divulge to the families all the information they have, to disown the policy and to dismantle the apparatus.
"This is the mother and father of all campaigns; because once we break the British in this, the floodgates are open."
One family's story
Terry Davison's brother - IRA Volunteer Brendan Davison - was 33 years old when he was shot dead in his home in the Markets area of Belfast by UVF men masquerading as RUC officers.
At the time of his death in July 1988, Davison had already spent a total of ten years in and out of prison for his part in the struggle. He had narrowly survived an earlier loyalist attempt on his life the previous year, in which he had been shot in the back and arms.
"He was an active republican for most of his life," says Davison, "He knew he was a prime target for loyalists and it was subsequently revealed that Brian Nelson had actively targeted him.
"Nelson did a deal with the UVF - he swapped explosives for information on Brendan and other republicans - and the UVF used that information to carry out his murder.
"They came to the house dressed in RUC uniforms around 9.30 in the morning. A real RUC Land Rover had just left the street prior to their arrival. Knowing he was a potential target, Brendan had taken some precautions. He had security bolts on his doors and bullet-proof glass installed in his windows, but they used an AK-47 to shoot him and he was hit once in the head.
"I was living less than 300 yards from him at the time and someone came over and told me he had been shot, but by then he had been taken to hospital. When I did see him the thing that stuck me was that the soles of his feet were stone white. If you've ever seen the colour of somebody who's been embalmed, that's what the soles of his feet looked like.
"We more or less knew he was probably going to die, but you hope against hope in those situations. They rushed him to the operating theatre but after a while the doctor called my brother Brian in and told him 'we lost him on the operating table'.
"I went in to see him and he was lying on the slab. He had only just died, so he was still warm and I looked at him, but it never really sunk in. It only really hit me at his funeral when we were lowering his coffin into the ground. That was when I realised, 'he's dead'. I just burst into tears. It was the first time I had cried."
"He was a real character," adds Davison, fondly recalling his brother, "He was 6 foot three, weighed about 16 stone and was very popular. He is still very highly thought of today.
"His loss was a big blow to our family, to everyone who knew him. It completely destroyed my mother. I remember my father breaking down at the funeral and saying, 'children should bury their parents, not the other way around'. That has always stuck with me.
"We still think about him all the time."
Families pleased with reception
Davison says he is pleased with An Fhírinne's reception in the European Parliament and hopes this will be another step forward for all the families.
"I'm pleased with what's happened in this campaign because I think people in Ireland - from whatever political view - have now more or less accepted as fact that collusion took place on a massive scale.
"I personally believe, as do many others, that it went all the way to cabinet level."
Seamus Hassan - who accompanied the delegation - said he was jubilant about the support and interest offered by the European MEPs.
"I am here in a supportive role for the people of South Derry," Hassan told An Phoblacht. "Some of those families were unable to come so I offered to come instead."
"I think the EU presentation was absolutely brilliant, because it's brought the issue of collusion to the heart of Europe, which has been media-blocked for many years, and I must congratulate everyone who was there because they expressed their views and experiences in a very dignified manner.
"We've moved on as far as we can in our own country and this is the next step towards finding the truth. If you hit a wall, you try to find another way around it, and I would be confident in Bairbre de Brún and look forward to the support of the other MEPs.
"The one thing that all these families have in common is that we want to bring our point right back to the very establishment which was entrusted to protect these people, and yet ended up colluding in their killings and covering it up."
"The Irish Government have been very, very weak in their demands for disclosure from the British Government and in their demands for the British Government to apologise for what they've done. An apology would only be a start - but at least it would begin the healing process."
"We need to know why these people were killed, what political motivation was behind it, and how far up this went. Who gave these orders?"
The stories of the families involved in the campaign are as varied as the people themselves. Some are the relatives of IRA Volunteers, while others lost family members who had no political involvement in any organisation whatsoever.
But Hassan says they all have one thing in common - their anger and determination.
"The people of South Derry and elsewhere in the Six Counties are not going to be deterred," says Hassan firmly. "We have a responsibility to support these families. Every one of us owes them our complete and total assistance and I would ask that everybody - no matter who they are - come out and support them and do whatever they can to help."
Upcoming events
• Friday 10 Dec at 7 pm - Candlelit vigil outside Belfast City Hall
• Wednesday 15 Dec at 8 pm - Special Mass in rememberance of those killed due to collusion - Clonard monastry, West Belfast