2 December 2004 Edition
Sinn Féin councillor to stand down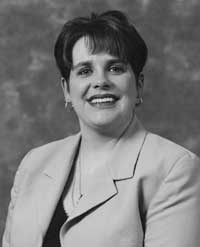 Sinn Féin Newry and Mourne District Councillor Elena Martin has confirmed that she will not be running again in the forthcoming local elections due early next year. The Slieve Gullion area Sinn Féin representative cited pressures as a young working mother as a major influence on her decision not to allow her name go forward for reselection.
"My role as a Sinn Féin councillor has been intense but highly informative and rewarding," she said, "and I will be making sure that the experience I have gleaned as a local elected representative will not be lost, as I will be continuing to work for the community along with all Sinn Féin activists."
Newry and Mourne Sinn Féin Group Leader, Terry Hearty, said that Elena, a former deputy mayor of Newry and Mourne, had been a worthy Sinn Féin representative for Slieve Gullion. "Elena will continue to be a key adviser and member of our Sinn Féin group," he said.