2 December 2004 Edition
SAS get away with murder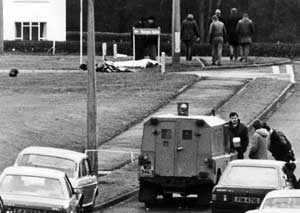 The decision by the Director of Public Prosecutions (DPP) not to prosecute members of the British Army's SAS involved in shooting dead two IRA Volunteers in Derry in 1984 was upheld in the High Court in Belfast on Wednesday 24 November.
Volunteers Danny Doherty and Willie Fleming were on active service in December 1984 when they were ambushed by a five-strong SAS gun gang, who rammed their motorcycle before firing a total of 59 shots into the pair.
Doherty was shot at least 19 times, with six shots hitting him as he lay prone on the ground.
At the 1985 inquest into Doherty's killing, the jury found that "the five-man army unit should have tried to arrest this person or at least informed the RUC earlier and his life might have been saved".
In his ruling, delivered at Belfast High Court, Judge Girvan dismissed the application brought by Julie Doherty, who was seeking a judicial review into the DPP decision not to prosecute any of the British soldiers involved in the killings.
Doherty challenged the DPP's failure to prosecute the British soldiers involved in the ambush and its refusal to provide her with "full and sufficient" reasons for not doing so.
In his ruling, Girvan said, "it has not been demonstrated that the prosecuting authority approached the exercise in arriving at its decision on an incorrect, irrational or improper basis.
"The no prosecution decision was made in 1986. In 2004 it is much too late for the applicant to seek effectively to reopen a decision made in 1986 and not challenged within a reasonable time thereafter."
Eugene Burns of Madden and Finucane solicitors, who represents Doherty, said: "We are disappointed at the decision, particularly in the light of the inquest jury's conclusions and the scientific evidence that Mr Doherty was shot from the rear and six shots hit him while he was lying on the ground."
In the aftermath of the killings, a DUP spokesperson gloating over the killings declared: "I am delighted that the two IRA men were intercepted and executed by the undercover army squad. The only way the IRA will be dealt with is when they are executed. They deal in death and must be dealt with by death."