2 December 2004 Edition
Citizen Cowen's budget challenges
BY ROBBIE SMYTH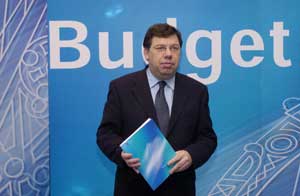 Finally, the low paid are out of the tax net, a small hint of tax reform, above inflation rate increases in pensions, child benefit, unemployment assistance and an unprecedented package of spending on disability.
This budget was a relief, after what seemed like years of the arrogant swagger of Charlie McCreevy. It was also an indictment of the McCreevy years and coalition policy during this time. It is at best a very small step in a more progressive direction.
It leaves, though, many unanswered questions covering such issues as capital spending, tax reform, the privatisation agenda, child care, social welfare and education spending and the little matter of economic growth and the business economy.
STRETCHING THE ENVELOPE
Cowen told the Leinster House deputies that he wants to make sure value for money is delivered for the €45 billion it spends annually. There are two aspects to this that show the real nature of the budget, they are "Capital Envelopes" and new guidelines on managing capital projects.
Capital Envelopes are multi annual government spending plans. For example, €10.2 billion will be spend on transport between 2005 and 2009, €900 million will be spent between 2006 and 2009 on disability projects.
What has not been said is that this money is not guaranteed and is entirely dependent on prevailing economic conditions and Cowen can easily turn around in 2007 and revise his capital envelope, pleading inability to pay.
McCreevy's record in office in recent years gives two examples of this. The first was that since the 2002 Leinster House election, capital spending has been effectively frozen.
One of the main casualties of this freeze was an abandonment of pre-election commitments to refurbish the hundreds of seriously dilapidated schools around the state. Then in 2003 ,a three-year commitment to raise Child Benefit became a five-year one.
This is how envelopes have worked in the past. There was nothing in this budget to convince that envelope stretching will continue in the future.
GOOD CAPITALISM
Now Cowen wants "careful planning and implementation" in capital spending. His solution is new guidelines from his department that have not yet been published.
It still doesn't explain the massive budget overruns in the Dublin Port Tunnel and the LUAS which now run into hundreds of millions of euro. It will take a lot more than new guidelines to show the taxpayer that they will be getting value for money.
TAX CARROTS
Finally, taking the low paid out of the tax net will no doubt be on the lips of every government minister between now and the next election. The widening of the tax bands and increase in credits will make up for some of the last two years of slippage. However it is only the beginning of any real steps towards tax reform.
Cowen claimed that, "Ensuring a fair and balanced tax system is a priority for this Government". So what is he actually going to do? Well for now nothing, other than some small tinkering that helps multinationals coming to the financial services centre.
COWEN IMPLEMENTS SINN FEIN POLICY
Interestingly, Cowen did say said that "the concept of unlimited or unrestricted reliefs is no longer viable or acceptable to the general tax-paying public in current-day economic circumstances. I want to make sure that everyone makes an appropriate contribution to the State."
Cowen wants "a complete and comprehensive reform of the system". So he has instructed the Department of Finance and the Revenue Commissioners to "undertake a thorough evaluation of the effect of all relevant incentive reliefs and exemptions and to bring forward proposals".
This is progress, the only problem was that a fully independent review would be better but let's not be too begrudging.
BUSINESS AS USUAL
However, the Cowen revolution ends here. He will continue with Public Private Partnerships, even though his own department doesn't consider them value for money. He didn't deal at all with the pressing childcare issue, despite years of promises on this issue.
Perhaps the one item that sums up the double standards that permeate this budget is the positive decision to abolish stamp duty for first-time buyers who buy second-hand houses. No mention, however, of the tax relief available to buyers of second and multiple properties, even Charlie cut that, even it was for only one year of his seven.
Citizen Cowen promised just a little more than his predecessor; the next year will show if he can deliver on this.