2 December 2004 Edition
Finucanes reject inquiries legislation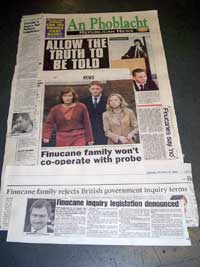 New legislation set out by the British Government on Friday 26 November "would bring an end to independent public inquiries and allow the [British] government to prevent independent scrutiny of a range of events where there are serious allegations of state misconduct", says Jane Winter, director of British Irish Rights Watch.
And the family of Pat Finucane has also slammed the Inquiries Bill, declaring that they will not cooperate with any public inquiry into the killing of the human rights solicitor under the new legislation, which gives total power to a minister to determine when the inquiry sits in private and what material is to be withheld.
The legislation also allows the government to withhold from the public for 30 years the transcripts from any inquiry.
According to the Finucane family, the new legislation does not comply with recommendations made by Canadian judge Peter Cory who, after he investigated the links between the British crown forces and loyalists in the Finucane killing, called for an independent inquiry.
Cory outlined his view that the tribunal of inquiry should have full power to subpoena witnesses and documents, together with all powers usually exercised by a commissioner in a public inquiry.
The Finucane family said Clause 17 of the Inquiries Bill is "a wholesale departure from the Weston Park agreement and the Cory recommendations".
Sinn Féin's Gerry Kelly said that the issue of the inquiry into the murder of Pat Finucane was raised on Monday morning by Sinn Féin with British Prime Minister Tony Blair and on Tuesday in talks with Taoiseach Bertie Ahern in Dublin.
Kelly described the Inquiries Bill as "the latest attempt by the British Government to thwart the efforts of families such as the Finucane family to get to the truth behind the killing of their loved ones".