2 December 2004 Edition
Hectic week of talks
BY JOANNE CORCORAN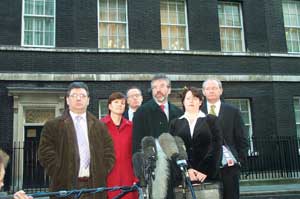 An intensive week of negotiations saw Sinn Féin meet with Bertie Ahern, Tony Blair and Hugh Orde, and Gerry Adams speak with George Bush. The DUP met with Blair and will meet him again on Friday.
On Sunday night, Gerry Adams spoke to US President George Bush, briefing him on Sinn Féin's objectives in the current negotiations.
These objectives are to get the DUP on board for an agreement and to ensure that the British Government's position remained faithful to the power-sharing, equality based and all-Ireland institutions contained in the Good Friday Agreement.
"I told him that we may need the help of the White House to deliver these requirements," Adams said.
On Monday, the Sinn Féin President, along with the party's Chief Negotiator Martin McGuinness, Caitríona Ruane, Gerry Kelly, Joe Reilly and Michelle Gildernew, met Tony Blair and PSNI Chief Constable Hugh Orde in Downing Street.
The main issue on the table was demilitarisation, which the Prime Minister, on a previous occasion, had said was Orde's responsibility. Sinn Féin pressed for an end to the military occupation in republican heartlands. The issue of policing was not discussed.
A good discussion
On Tuesday, Sinn Féin held what it called a "good discussion" with Taoiseach Bertie Ahern, but said that it had concerns about the timeframe of the negotiations being stretched.
"The deal could be done today if there was political will. We don't even contemplate failure at this point," said Adams.
Paisley comments
Responding to comments made by Ian Paisley about the IRA, Adams dismissed them as "intemperate and highly insulting". He said such remarks "do not help the job of making a deal any easier".
Over the weekend, the DUP leader told supporters in Ballymena that the IRA needed to be humiliated. Adams said there had been a lot of anger expressed by not just republicans but the broader nationalist community in relation to the comments.
Speaking after meeting with Blair on Tuesday, Paisley tempered his comments a little, saying: "We are moving, I believe, in the right direction."
While Sinn Féin's meetings have now finished, the DUP has still to meet Blair on Friday.
Castlerea Four
On Wednesday there was another significant development, when Bertie Ahern told the Dáil that he would recommend the release of the Castlerea Four if a comprehensive deal was reached. The four, jailed on charges relating to the killing of Garda Jerry McCabe in 1996, should have been released as part of the Good Friday Agreement, but the Dublin Government has so far refused to acknowledge or meet that commitment.
Ahern told the Dáil that in the event of a deal being reached, the government would consult with the McCabe family and Garda bodies before releasing the four men.