4 November 2004 Edition
Irish Northern Aid Chair receives Joe Cahill Award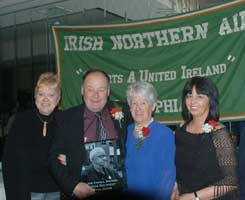 Over 250 people attended the 23rd Annual Philadelphia Irish Northern Aid (INA) Testimonial Dinner on Friday 29 October. For their support and commitment to a free and united Ireland, awards were presented to Larry Dunigan, Clan na Gael; Willie Farrell, New Jersey INA; Carolyn Killion, LAOH and Irish Political Prisoners Children's Holiday (IPPCH); Seán McCann, Philadelphia INA and GAA; and, Connie McCrea, IPPCH and Donegal/Tyrone Societies.
Last year, Philadelphia Irish Northern Aid created a special award to recognise lifetime achievement and called it the Joe Cahill Award. The recipient is not told they are getting the award until it is presented the night of the dinner. The 2003 recipient was Mattie Regan of Clan na Gael.
This year, Joe's widow, Annie Cahill, was in Philadelphia to present the award to Irish Northern Aid National Chair Paul 'Tilley' Doris, who was visibly surprised when his name was read out. It was only then that organisers were sure they had been able to keep word of the award a secret from him. Annie, in her remarks, talked of Joe's fondness for Philadelphia and said there was 'no better place' to have an award in his honour.
Later in the night, the dinner guests were treated to a beautiful rendition of the Ballad of Tom Williams, sung by Annie Cahill.