4 November 2004 Edition
Marchers highlight A&E crisis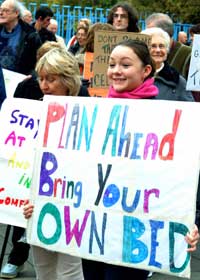 Hundreds of people marched last weekend to Leinster House demanding government action on the crisis that is gripping the 26-County states's A&E departments, with patients stranded on trolleys in hospital corridors because of a lack of beds and unacceptable waiting times for treatment.
• Sinn Féin Councillor Brian McKenna, a former member of the North Eastern Health Board, has expressed sympathy to the family of Benny McCullagh of Monaghan Town, who died of a heart attack en route to Cavan General Hospital last week. He could not be admitted to Monaghan because of its off-call status.
McKenna said the tragedy highlights the need to return Monaghan General Hospital to on-call status.