4 November 2004 Edition
Brollys to be given Key Persons Protection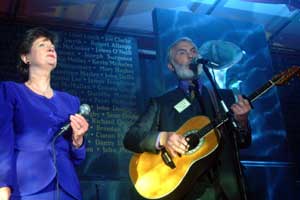 FORMER Mayor of Limavady, Sinn Féin Councillor Ann Brolly and her husband, East Derry Assembly member Francie Brolly, are to have their home secured under the British Government's Key Persons Protection Scheme (KPPS) after a judge overturned an earlier decision by British Secretary of State Paul Murphy to exclude the pair from the scheme.
Judge Weatherall quashed Murphy's decision at a hearing at Belfast High Court on Wednesday 27 October
The couple were warned by the PSNI in April 2002 that they were under death threat from the Red Hand Defenders, a cover name used by the UDA, and applied to be included on the KPPS.
Yet it wasn't until March of last year that Murphy, on advice from PSNI supremo Hugh Orde, informed the couple they were not considered to be under serious or significant threat and therefore protection was not warranted.
Refused to accept the ruling
The Brollys refused to accept the ruling and applied for a judicial review of the decision, which was upheld by Judge Weatherup on Wednesday.
In his judgement, Weatherup told the court that the PSNI had assessed the risk to the Brollys as moderate but, as that indicated a potential for them to be singled out for attack, the state was required to take reasonable steps in response.
"The applicants faced a real and immediate risk to life and I am satisfied that the decision of the Secretary of State in relation to the scheme must be quashed," he ruled.
Murphy was ordered to pay the costs of the hearing.
"For us this means the judicial system realises that Sinn Féin members under threat are entitled to proper protection," said Francie Brolly.