4 November 2004 Edition
Tenants are being racially vetted - Belfast rally challenges racists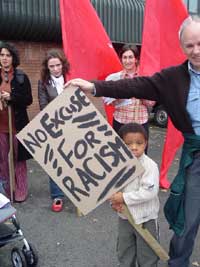 In a week when thousands of citizens attended a rally at Belfast City Hall on Saturday to show racists they have no place in society, it has been disclosed that a number of estate agents in South Belfast are vetting clients of ethnic origin. These estate agents have been reported to the Equality Commission.
The move comes after it was revealed that at least one South Belfast estate agents has issued instructions that a number of its properties should not be rented to people from ethnic minority communities.
Homefinders in Botanic Avenue, South Belfast, issued an internal briefing to its employees with instructions not to rent to ethnic groupings.
And details of properties Homefinders were advertising had written instructions attached, warning that "no Chinese", "not suitable for people from ethnic backgrounds" and not suitable for "Chinese or Black community", were to be considered.
It is understood that other estate agents across the Six Counties are also employing this practice as the number of racist attacks orchestrated by unionist paramilitaries is on the rise.
South Belfast estate agent Peter Whitcroft said that many people in his profession were now being forced to discourage ethnic minority tenants from moving into certain areas.
"Everyone is being forced to do it whether they like it or not," he said. "You don't want to send someone from an ethnic minority community into a house where they are going to be attacked. Landlords don't want their properties being attacked and estate agents don't want to put the lives of tenants or staff in danger."
But Anti-Racist Network spokesperson, Steven Alexander, described the practice of racially vetting communities as "blatant discrimination".
"This is the sort of thing that most people thought had disappeared in the '70s, when there was a "no blacks", "no Irish" policy operating in parts of London and elsewhere. Here we are in the 21st Century, and people are still being discriminated against on the basis of their colour."
Alexander said people have the right to live wherever they want. "No one can say that there is an area where Chinese or Black people are not welcome; we are trying to build a multicultural, diverse, tolerant and respectful society here.
"We have asked the Equality Commission to investigate this practice, because we believe it is illegal under the Race Relations Order."
This latest disclosure comes just weeks after UVF paramilitaries forced the Chinese community to abandon plans for a community and resource centre in the loyalist Donegall Pass. Members of the UVF visited estate agents in South Belfast warning them not to move any more Chinese people into the area. The South Belfast UVF boss had imposed "quotas" on the number of ethnic minority communities allowed to live in loyalist areas such as Donegall Pass and Sandy Row.
Meanwhile, Sinn Féin President Gerry Adams said the ethnic minority community in Belfast are part of our social fabric and must be defended and protected.
Adams was speaking after he attended an anti-racism rally at Belfast City hall on Saturday.
Against the backdrop of ongoing racist attacks, around 2,500 people, including members of Sinn Féin, attended the rally.
"The rights of ethnic minorities as citizens must be upheld and they must be allowed to live their lives in peace without the the threat of racist attack or abuse," said Adams. "All of us, as the political leadership in this city, have a duty and an obligation to stand up against the racists and the bigots who have been engaged in an organised campaign of intimidation against the ethnic community in this city".
Adams praised the Anti-Racist Network, Chinese Welfare Association and all who have worked with them and pledged the continuing support of Sinn Féin in tackling the issue of racism.
Since April 2003, there have been 226 reported incidents of racist attacks to the PSNI, the majority orchestrated by unionist paramilitaries, but there have only been five prosecutions.