4 November 2004 Edition
Guns, tulips and Enya at EU Treaty launch - Ahern kicks off Fianna Fáil referendum campaign
BY ROBBIE SMYTH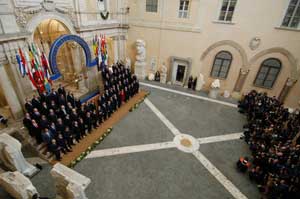 What does it take to sign a new EU Constitution these days? Well, apparently for host Italian Prime Minister Silvio Berlusconi the vital ingredients are €9 million, a lavish setting, thousands of Dutch tulips, along with 7,000 heavily-armed police officers, hovering helicopter gunships, a circling fighter squadron of F-16s enforcing a no-fly zone, a little bit of Beethoven and lots of Enya to drown it out and a famous Italian film maker, Franco Zeffirelli, to direct the TV coverage. And, of course, a pen and a copy of the Treaty, but maybe these two last elements are optional.
The venue for the new Treaty of Rome was, under the watchful statue of Pope Urban VIII, in the Renaissance splendour of the Campidoglio, Rome's City Hall, inspired apparently by Michelangelo.
DIFFERING VIEWS
One of the most interesting comments regarding the importance of the new Constitution for the enlarging EU came from Jan Peter Balkenende, the Dutch Prime Minister. The Netherlands currently holds the EU presidency.
Balkenende was upbeat, emphasising the positives and arguing that economic and political integration had turned Europe into a realm of peace and cooperation. He said: "We have seen former dictatorships turn into democracies and have witnessed the reunification of Europe".
This is indeed true, but how really unified is this new Europe? Fianna Fáil leader Bertie Ahern said that the treaty "simplifies and clarifies the legacy of the last 50 years".
Ahern also said: "It is of fundamental importance that all 25 member states ratify. The process of ratification will not be easy." Here is the nub of what happens next. Of the 25 states who signed up last week, only 11, including the 26 Counties, will put this hugely significant treaty to a referendum.
So, the democratic underpinning of this new Europe falls at the first hurdle. Even more bizarre are the soundings coming out of the EU Commission over the past few years that states failing to ratify will be left behind, yet those who don't even bother to hold a referendum will be able to exclude those who do?
This is in clear contravention of the provision that this new treaty only comes into force when the current EU members all collectively ratify it.
IRISH INTERESTS
Of significant interest at the treaty signing session was the disclosure by Ahern that he would delay the holding of a referendum on this treaty until 2006.
Ahern said: "I'm not going to take a chance by jumping in quickly as we did in Nice 1". The problem with a quick referendum was that then we "don't have a proper debate".
The solution then is to go about "exercising people's minds about Europe, what it's all about, what it's doing".
Then Ahern effectively kicked off the government campaign, when he said: "To reject the Constitution would be an enormous setback in any country", while claiming that every "single Irish Interest" was protected. Included in this was "neutrality, tax harmonisation or any other central issues".
Ahern described the first Nice Treaty campaign as "a dog's dinner" and said "I always recall those press conferences in Nice 1, when I could not enthuse any of yourselves, not to mind myself".
Ahern attacked those who might oppose the new EU Constitution, saying that he couldn't see any reason for opposing the Treaty other than,"to be against something for against's sake".
Perhaps the most forbidding comment by Ahern was that he wants to "feed information" into the "national psyche". This is a lot different from the promised public debate, so it seems we have to endure not a debate but perhaps nearly two years of being drip fed pro-Constitution propaganda.
THE LONG RUN
Also taking the long run is Britain, which doesn't have to hold a referendum to ratify the treaty but has been committed to a poll by Tony Blair. According to British foreign secretary Jack Straw, Britain is too busy with hosting the EU presidency and the G8 summit, as well as having its own snap election in 2005, to get around to the EU Constitution.
Ahern, on the other hand, is maybe seeking to delay the referendum and instead make it a possible 26-County election day issue.
What is clear in both cases is that it is not really about a fair debate on the future of Europe but political expediency. The bottom line is that both Ahern and Blair have their eye on that elusive third consecutive term of office.
They both had time for the beautifully choreographed expensive photo opportunities but not, it seems, for democratic debate. Business as usual then.