4 November 2004 Edition
No 'acceptable level' of British troops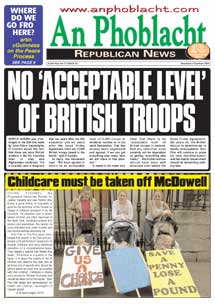 Bertie Ahern was challenged in the Dáil this week by Sinn Féin's Caoimhghín Ó Caoláin about the fact that there are more British soldiers in the Six Counties than in Iraq and Afghanistan combined. "It's a scandal and a disgrace that ten years after the IRA cessation and six years after the Good Friday Agreement, there are 12,000 British troops based in the North," said Ó Caoláin.
In reply, the Taoiseach said: "We have agreed to return to an acceptable level of 6,500 troops or whatever number is in the Joint Declaration. That has already been negotiated and agreed. If we can get everything else ready, then we will move to that position."
It needs to be made very clear that there is no "acceptable level" of British troops in Ireland. And any reduction must certainly not be dependent on getting "everything else ready". Demilitarisation should have been well advanced even before the Good Friday Agreement. Six years on, the British failure to demilitarise is totally unacceptable. Sinn Féin will continue to press for total demilitarisation and the Dublin Government should be demanding nothing less.